Fall Break, when you have a really cool plan, it collapses entirely and then things turn out to be amazing all on their own. At least that's how it went for me; damn the plans! Originally I was going to go to Santa Fe with my old high school friend Jake after spending a few days in Denver and Boulder to see some of his other friends, all of whom were very lovely. We spent the first day in the Springs, mainly in Garden of the Gods which is very close by and absolutely gorgeous. Just like the last time I'd been there, the weather was beautiful and the park was a little less busy, so we wandered around for a little bit and had time to take photos and actually do the full loop, which isn't long by any means but I had just never had the chance to complete.
As I said, in Denver and Boulder we spent most of our time with Jake's friends, very different but welcoming and comfortable environments. Denver was all about eating out, board games, wine and hiking. The hike was to a spot quite a distance away where rocks stand along the ridge of a hill, therefore called the Devil's Ridgeback. It was a pretty hike, and the path was dotted with tiny, dark caterpillars. We also bought a fest of cheesecake for Jake's birthday of which he had only informed me a few days earlier! I still can't believe it, haha.
In Boulder we met up with Vero at a tea house, went window shopping on Pearl Street and went back to Zabrian's place at the university to cook delicious food together and watch a few episodes of Skin Wars. He and his husband have the fiercest little dog I've ever seen! That evening I spent at Vero's cousin's house, my first sleep over in ages! We watched more Skin Wars and Vero was so lovely to make Quesadillas for breakfast – yumm! Other than that I did a lot of knitting, we had tasty Bloody Mary's at a breakfast place, went to see Justice League for an atrocious price.
Unfortunately, Jake's and my mind seemed to be on collision course throughout it all. You know me, I'm blunt, I don't sugar coat. Jake is my dear friend, as he has been for seven years now, and I love him as much as before. While we got along splendidly a couple of years before in Germany, for some reason this time around we just wouldn't click. We were butting heads to an exhausting degree. It took quite a bit of back and forth, especially in my mind, until I decided to break with our plans and to stay in the Springs. It wasn't easy – I had been excited to see Jake in a long time, it was my one long break in Colorado, and Jake had come out from Indiana. Ultimately, I knew I needed to use the break to take time to rest, find balance again, be creative, enjoy – I think some people call it "Me-Time" or simply self-care. So, I sent Jake on his way, who also changed plans and explored the Rocky Mountains some more as well as driving as far as Salt Lake City, and I stayed behind.
My days were not very eventful initially, but I managed to arrange a Thanksgiving invitation with a staff member short notice, which was extremely lovely of her and her family. I was really nervous when I arrived there but to my relief, two other students were also attending. That ended up turning around my Fall Break again. More about Thanksgiving, though. I don't remember much about my first Thanksgiving in 2010, all I know is that this one went exactly how you would expect it (at least as someone who is not really in the know) – but without the taboo conversation topics. Everyone was lovely and engaged and had interesting stories to tell. The wine was good, the appetisers delicious and the dinner – *insert multiple hearts here*. Salad, Turkey, stuffing, roasted vegetables (if I remember correctly) and two homemade cranberry sauces if I remember correctly. Most importantly, I talked a lot to Chaline, one of the students. She's smart, funny and absolutely loveable, so I immediately asked her if she wanted to come to Canyon City with me and Maha the next day. She did! But first she convinced me to go to Best Buy with her at midnight to do some Black Friday shopping and Maria, the host's son's wife, also joined us. Sadly, the store was already open, the deal we wanted wasn't there, and it just didn't make us fear for our lives, so not very authentic.
The trip to Canyon City was the highlight of my break. It's about an hour away from the Springs and home to the Royal Gorge. First, we had to realise that everything was closed because it was a holiday, which meant that we could ask no one for directions or advice on what to do and had to play it by ear and trip advisor. Our first stop was the Royal Gorge, a canyon with a river in it, I mean, it's a gorge. A huge long bridge leads over it, but the prices for walking it were atrocious, so no. Instead, we backtracked a little and hiked to the rim which is highkey what everyone should do, though I'm a little surprised there were no fences. Maha also convinced us she'd found hatched snake eggs, that's when we decided we had stared at the depths of the gorge and the beauty of the mountains enough. I think it went hand in hand with Chaline telling a story of a woman wrestling a mountain lion to save her husband.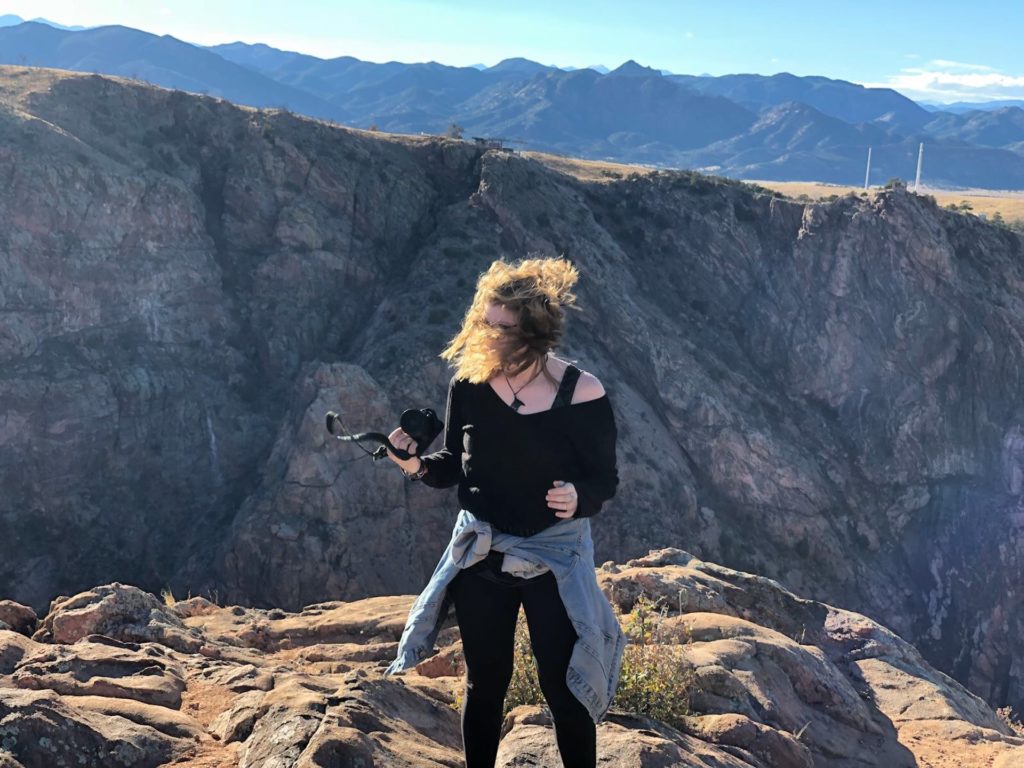 Back at the car we headed towards food but took a detour over the Sky Drive that leads over a small mountain ridge and is breathtaking. Thank you trip advisor, you did your job well. That was also when the craziness started, probably owed to low blood sugar. We started using accents, random ones at first, and then tried to teach each other the accents of our people – Cameroonian, Arabic, and German – to communicate that we really needed to find some burgers. We did, they were lit, there was a short hiccup of me losing my ring in a trashcan and having to retrieve it, and we were on our way back. As was to be expected after a day of hiking, sun and wind, I was super tired, but the girls kept me awake. Honestly, we laughed so hard my throat and stomach hurt at the end of it.
But it wasn't the end of it! Even though I'd only met Chaline, the chemistry between the two of us was carefree and hilarious. The German House was near abandoned, the perfect location for tea, movies and four hours of Chaline doing our nails. First of all, she is a star for lasting that long, and she's also just super talented. Our nails looked awesome. And Maha even got to see the Lion King for the first time! The last two days of break I also spent with the two. We made the strange American version of Goulash, hung out at Chaline's with her roommates and friends for a while and on the second day had a luxurious breakfast at Maha's house, followed by a shared self-grooming session. Interestingly, we were all more knocked out by that than by a full day of exploration.
Thank to these two, Fall Break ended up being as fun as I had imagined it to be, as well as being the right amount of lazy and restorative. I think I really needed it to survive Block 4. And I learned a valuable lesson for myself: It's okay, it's warranted, to cancel plans in favour of one's own well-being over responsibility. And even if there doesn't seem to be a promising other option at the time, things always find their way of working out. After parting with Jake I had no idea my break would turn for the better. In fact, I went through a bit of a crisis thinking I had condemned myself to a week of solitude.  It was a good decision to follow my gut in this case. However, the decision also cursed me. Fall Break marked the moment when a serial stealing of my oranges began. By different people, mind you, but as soon as I left an orange unsupervised it would be gone when I was excited to eat it shortly later. It seems that no one remembers if they bought an orange or not and that oranges are so attractive that such a detail ceases to matter. It happened often enough to become a known phenomenon in the G House, and for me to want to remember this happened.