You know someone is special when you meet them after two years and nothing has changed. They have changed, you have changed, but between you nothing has. The first time it really sank in I was going to see my best friend again, after what had been the longest time spent apart in our six year friendship, was to days before on a boat in the middle of Komodo National Park. Wrapped in my pink travel towel, salty hair blowing in my face, I suddenly realised that it was taking him two days two get from Chicago to Bali, meaning his first flight had already taken off. We are like that nowadays that our lives are more stressful and I spent most my online time with my boyfriend (which I do feel a bit guilty about). When Nate and I find time for each other we grunt at each other's unfortune, make each other laugh and bitch about Politicians and despair about the world together. Sometimes we don't do any of these things for a few weeks until I suddenly realise I haven't told him yet that my sister had her baby five days ago. Therefore, it wasn't unusual that Nate hadn't said "I am leaving now" or anything along the lines. I realised he had for myself and started tearing up/grinning scarily on the boat in midst a group of hungry divers who, naturally, were more concerned about getting rice in their belly than my sudden state of fond happiness. As soon as it had come I calmed down again. What would have sent me into a squeaky fit like dance a few years earlier was now an inner comfort of knowing I was going to see him and everything was going to be good. Has my emotional range decreased drastically or is this called growing up? Either way, I ran to him once it sunk in that it was him calling my name at Denpasar airport and not our taxi driver, gave him a big happy hug, stretched my face with a grin too big for it, and then everything was normal.

We sat in the car to Ubud chatting about his journey and first Bintang and told some dive stories feeling like I hadn't seen him in two weeks rather than two years. It didn't matter that I had only learned a week before leaving myself that he was actually going to stop by Bali for six days on his way to South Korea. Overall I am pretty relaxed anyway, especially while traveling, so I wasn't phased at all when we realised at our new accommodation that we would have to carry our luggage through a muddy slim and unlit footpath along rice fields to actually reach the house. My mum almost lost it, but I don't care about these sort of things. I took off my shoes and went ahead. It did result in me looking like an Uruk-hai (because I made as well have been born in mud, can't believe the restaurant that night let me eat there), but who cares, I'm on holiday. With Nate around nothing can worry me. Well, having a fight with your boyfriend is never ideal, but when you have your best friend by your side you can somehow believe that everything will turned out fine in the end. It's best friend magic, I'm sure of it. So even when I, carefully navigating my scooter on the uneven, muddy path in the dark, slipped off that path and into the little stream to the side of it, dangling there until my dad came to first pull me out and then help with the vehicle, I wasn't particularly worried about it. I got back onto the scooter and rode it to the house, at which point Nate arrived by foot (you don't want to share a scooter on that little road) and told me my mum was losing it. She was slowly walking behind us crying hysterically because seeing me go off the path and not knowing what had happened had shocked her to the core. I held her and soothed her and told her I had been careful and going slowly, which was true – I had only slipped because there is a huge hole in the tiny concrete patch of the road, and I tried to drive around it. From then on she asked me to get off and push the scooter for that metre.

Having Nate there made even the results of an underwater mermaid shoot seem funny. When you have access to a pool, you gotta take advantage of it and that's what we did. In typical Nate – Shirin fashion we came up with awesome ideas like using a flower to "put my lipstick on", or combing my hair with a dingelhopper like Ariel does, or playing with a big leaf. We clearly overestimated our underwater photography prowess because things went pretty much not to plan at all. My hair went all over the place, my eyes were sleepy, and sometimes I looked more like a merwitch than a mermaid. It wasn't all my fault though, the camera took ages to recharge between photos, so when I was doing my most gorgeous moves that sent water shooting comfortably up my nose, Nate couldn't release. Then I would surface to take a minute and get snot out of my nose before going back under. I think we did this for 45 minutes if not an hour by which the light was starting to get a bit scarce and my eyes couldn't take the chlorine anymore. They were burning madly. When we came out of the water I had difficulties focusing on my green floor length skirt, that I was pretty certain wasn't green at all. "Is this purple?" I asked Nate since I was squinting and blinking so much I really couldn't be sure. His eyes which had been protected by a mask were a bit more reliable but came to the same conclusion. A chemical reaction with the chlorine had turned my skirt purple and if there was so much chlorine in the pool, it came to no surprise that I could barely hold my eyes open for the following hour without moaning in pain, tearing up and pressing my hands back on them. We didn't go back in the pool after that.

This swim mishap was actually only one of the few flaws of the disproportionately expensive two bed room, two bathroom and open air kitchen and dining table plus pool accommodation. For one there was not air conditioning. A ceiling fan ended up being enough but my dad likes his room cold, and if you claim to have air con you should actually have it. Although the rooms clearly accommodated four cutlery and dishes were only available for three and I believe we washed all of them before trusting to use them. My mum was upset about the rice field mud access to the house, but the worst thing was probably the leak right above Nate and my bed. The first night it right down poured and when we thought it couldn't get any worse, this was at about six in the morning, Nate jumped up because it was dripping onto him. We seriously thought about changing accommodation but the lady who owned the house sent someone to fix the roof and we thought we didn't want the trouble and stress of booking and moving again. However, the leak wasn't fix. A couple of days later, when it was raining like giants were emptying their bathtubs above us, it began dripping again – from three leaks this time. What made it worse was the roof paint dripping down with the rain and staining our bed sheets a yucky yellow brown colour. Again, I wasn't too worried. I waited until it was over, changed the sheets, and offered to sleep on the couch outside, which I had done for a considerable portion of the night anyway, so Nate could sleep on the non drippy side in case it rained again. It didn't rain again.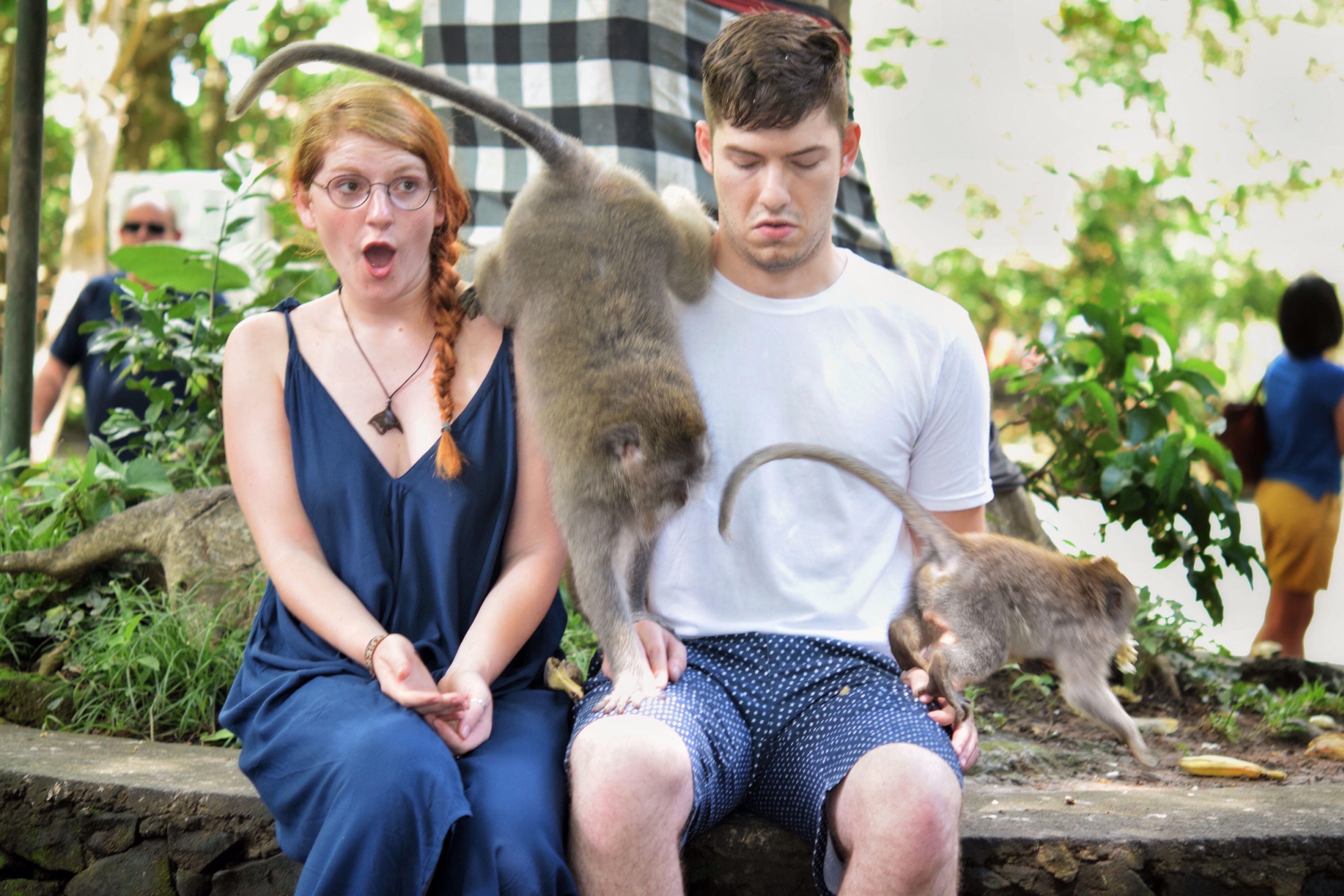 Other than these things our stay in Ubud was absolutely pleasant and considering I had my best friend to make light of all the worst situations with, I at least wasn't too bothered by all that went differently than planned. Nate trusted me enough to get on my scooter and so we rode into Ubud's crazy centre every day, sometimes just to shop and take walks, but also to see the Monkey Forest of course. I had been here two years ago and monkeys aren't rare to encounter in most of South East Asia, but I enjoyed witnessing my mum's and Nate's first interactions with them. While I had been sucker punched by a monkey, though, I had never had one searching my hair for bugs or try to undress me until now – monkey life never gets boring. In Ubud centre we mainly took it easy. We were going to go see a traditional dance show because it had been suggested to us numerous times, but the opportunity never really arose, especially since we spent one evening catching up with some friends from home. Instead we found a lovely little place one evening to have a foot massage only to then step out of the door with our freshly lotioned feet straight into a puddle. The experience was wonderful still, so when we returned to Ubud another day we were a little disappointed that the spa was fully booked – finding short notice availability for four full body massages was obviously a bit of a difficult quest. It required us to ask in every parlour we passed until two girls were determined to accommodate us despite not having the availability. At first they said it was going to be 45 minutes until both rooms were empty, then they said 20 minutes and we could sit down and have a drink while we waited. It sounded better than continuing to be massage vagabonds. However, the place didn't look very promising. Their "office" was a table outside with four plastic chairs set outside it. We prevailed, and didn't regret it. The rooms themselves were comfortable with a spacious ensuite bathroom in which we got changed into sexy bulky black underwear and then had our feet washed bare chested. It was a bit of a weird experience for me, but I've only had a handful of massages in my life. The girls made light conversation with us and got a bit of a shock when I revealed to them that Nate was neither my boyfriend, nor my brother and they had still stuck us into a room together half naked. Nate is pretty much like my brother and to show them it wasn't a problem, he quickly told the story of how my family had invited him to spend a week in Bali with us so him, and I didn't have to go three years without seeing each other. The massage was great, even though I don't think I can ever get used to the small voice asking "Miss Emma, are you comfortable?". I definitely prefer silent massages, but I'm just awkward.

One day we did a bike tour, because my mum loves biking and they said it was going to be downhill so we agreed to do it. Although my dad knew he wanted to do something like this all along we booked the tour the day before and had no idea what it would include. The expectation was to be taken up a hill and then ride it down, basically. The expectation was exceeded by far. Our guide Wayan was absolutely lovely. He was lively and enthusiastic and surprised us with our first stop at a plantation were he explained how a lot of different things grow – who knew pineapple grows like that? – and we had a free coffee and tea tasting which was absolutely delicious. Eleven flavours altogether, and one more delicious than the next. Then we went to see the volcano of which I should seriously know the name by now and had breakfast with a view onto it. I suppose this is the typical tourist way of doing it. From close to there our bike tour started. It took some readjusting the ridiculously low seats before we were on the road. I don't mind scootering at all, but it was so nice to bike through a few villages with Wayan having us stop here and there to explain a few things about the meeting hall and Independence Day, about how the rice harvest works, or alternatively to put a huge spider in our face. Holy ship, it's a good thing I've battled my serious fear of spiders that used to send me into hysterical fits, some hyperventilation and top of the lung screaming when I was younger. I still felt quite brave letting that long legged, full bodied creature creep on my arm. Yuck. Wayan had two other surprises in store for us: one were three steep hills to be conquered right before the end of the tour and the other was lunch in his gorgeous family compound. His mum had put out a buffet of traditional dishes for us and even some that I had tried before and not liked were ridiculously delicious. I would have come back just for the food, but overall it was a very successful and fun day. The family run company is called Jegeg Bali Cycling Tours in case anyone is interested.

Up higher I wrote "return to Ubud" because we had only booked our accommodation until the 15th and had two more nights until it was time for Nate to leave from Denpasar. Him and Mama had picked out Sukawati not all too far away that sounded promising and absolutely wasn't. Sukawati is the place that hopes to be a tourist attraction but is the one stop of those many big tour buses that you could tell their passengers found to be more of a chore than a sight worth seeing. The art market offered items that I don't see anyone wanting to buy, and there wasn't a scooter rental anywhere in sight. This meant our host had to actually go back to Ubud and get scooters there. This meant we walked to said market, the silly hopefuls we were, for kilometres being utterly disappointed not only by it but by the lack of places to eat, which resulted in us getting a cab and going back to a warung five hundred metres from our accommodation for lunch. It was a wise choice. Once the scooters arrived in the afternoon we, silly hopefuls again, rode south to the coast full of excitement to see a black sand beach only to find it covered in plastic and other garbage. There were a few lovely rocky spots up the coast a bit, but all in all Sukawati was so much of a disappointment that we had instant noodles for dinner and went to bed early.
The next day we didn't even attempt to find anything to do in the place. My dad rode up to Tulamben for some free diving, we grabbed our scooters and headed back to Ubud. On the way we visited a nearby waterfall that was actually worth the many stairs and for Nate especially, who hadn't seen one in Asia like that yet, I believe impressive as well. Correct me if I'm wrong Nate, you one of my few readers.

The waterfall wouldn't be the only thing demanding a bit much from Nate's legs that day. After buying a few souvenirs which my mum wanted to take home we set out to finally have a look at that temple by the bridge which we had been interested int from day one. Our first mistake we made was to misjudge distance and park too far away from said bridge. Then we realised we could have parked right by the temple. It was located between what seemed to be two ridges, each carved by a stream but covered mainly by trees. The temple itself was closed and difficult to admire from outside, but a sign pointed toward a beautiful view of the ridge. Why not we thought and marched on. I can't say how long the distance was in the end. Considering the many different distance estimations that were offered at various points it could have been anywhere between two and eight kilometres, with the latter being improbable because I didn't hatch a 10km egg on the way there and back. The hike wasn't too terrible, though we we were a little disappointed when the view we were promised turned out to be yet another rice field. Or maybe we were absolutely blind and completely overlooked it. Just as we thought it would be nice to sit down and have a drink and just as we realised it was very possible to ride there by scooter from the other side, my dad called to tell us he had arrived in Ubud. I told him to meet us at a specific warung, said we were anything between two to eight kilometres away, ("Just tell me where you are. In the south? In the east?" – "I have no clue! Took this walkway from the bridge and we can only come back this way.") and we arrived at the warung only a few moments before him. He had walked the whole way, hadn't eaten all day and had a terrible headache, but I had a present for him to make it all better. We had a lovely dinner in Ubud that night with a singer who had a very remarkable and unexpected voice, and I would say that day was a worthy finale for Nate's stay in Bali.
I need to say at this point that I love this man. For the longest time I was afraid I was going to have to go three years without seeing Nate. Nate is like a recharge to me. Nothing overly dramatic or impressive, but I just feel good when he's around and when he's not around it's slowly draining my battery. You can only go into Low Power Mode for so long until you need a dose of your best friend. I reckon this dose should get me over until we get to catch up again after his teaching experience in South Korea. You go, Nate! Conquer the world! (Or at least Daejon).
Cheers.