My second block – Cultural Perpectives in Dance – was all about adventure and friendship. That sounds so cheesy, but it's true. The class itself was both theoretical and practical: we read texts on dances from different cultures and how definitions such as "ethnic" or "world" dance are used. One of my favourite – on maybe the most challenging part – was participating in different dance classes which are offered at CC. Balinese dancing really took it out of me and I felt like the most embarrassing white girl, having a go at Hip Hop dance styles. The class also included a field trip to Boulder to watch a Martha Graham performance which was really beautiful. I brought Hannah along, invented and recorded the Intermission podcast with Daniel and got my first Ben & Jerry's at an actual store! (Don't ask me why this is exciting).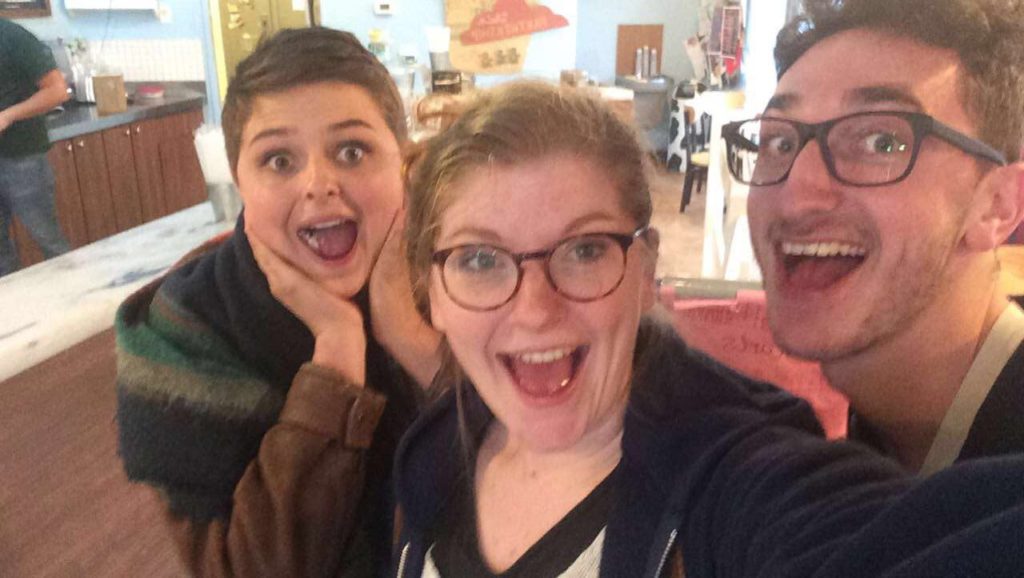 Another performance we got to watch and participate in was a Yuchi Stomp Dance performance in which the Yuchi tribe from Oklahoma introduced us to their ceremonial customs. We also engaged in movement exercises in class everyday, which helped connect words, emotions and movement and really helped bring the class together. So, I made another one of my favourite friends in class – the one and only, wonderful Eli. Eli is my fierce lion friend. We roam the world together, ponder it, disregard hunting and stuff ourselves with sushi instead, and team up with our elegant antelope friend Hannah to dance our hearts out. Eli is the most cuddly friend I have, and as soon as I see him, his sparkly blue eyes lighten up my day. That's enough gushing for now.
*That's not enough gushing, because when I suffered from the worst cramps the other day (honestly, my period has really been overstepping its boundaries these last two months), Eli came to be with me, to talk and cuddle and just not have me be alone, and I couldn't have been more thankful.
*On that note, Hannah, too, came to my aid in the middle of the night, when I was in a pretty poor place and not quite able to look out for myself. I feel so lucky to have these people be such caring, amazing friends, who make it feel like the most normal (and not embarrassing) thing in the world to need them and for them to respond immediately.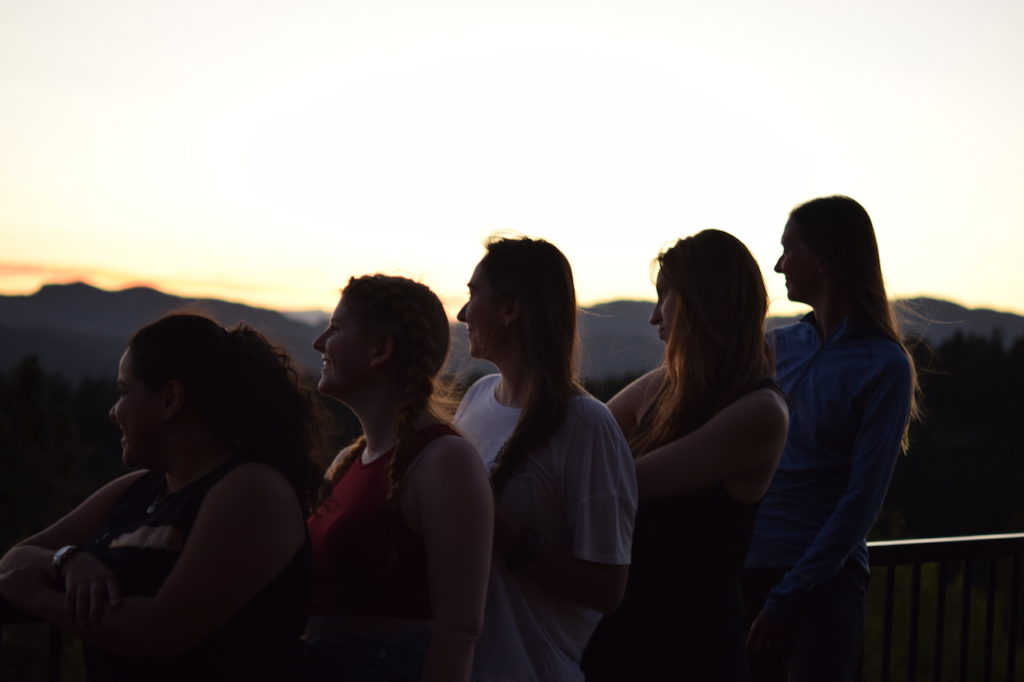 Back to Block 2: While I really loved the class and took a lot away from it, my favourite part of block 2 were the adventures. Over block break I went up to the CC Cabin with some of the other international students and CPCs. A cabin in the mountains, with the leaves just starting to announce fall; needless to say it was absolutely beautiful. Our days were spent playing games like Mafia and Dixit, taking hikes or walks (depending on who was doing it) and spending some time, if not all night, on the patio looking at stars. I made another flower crown and a photo shoot ensued, of course.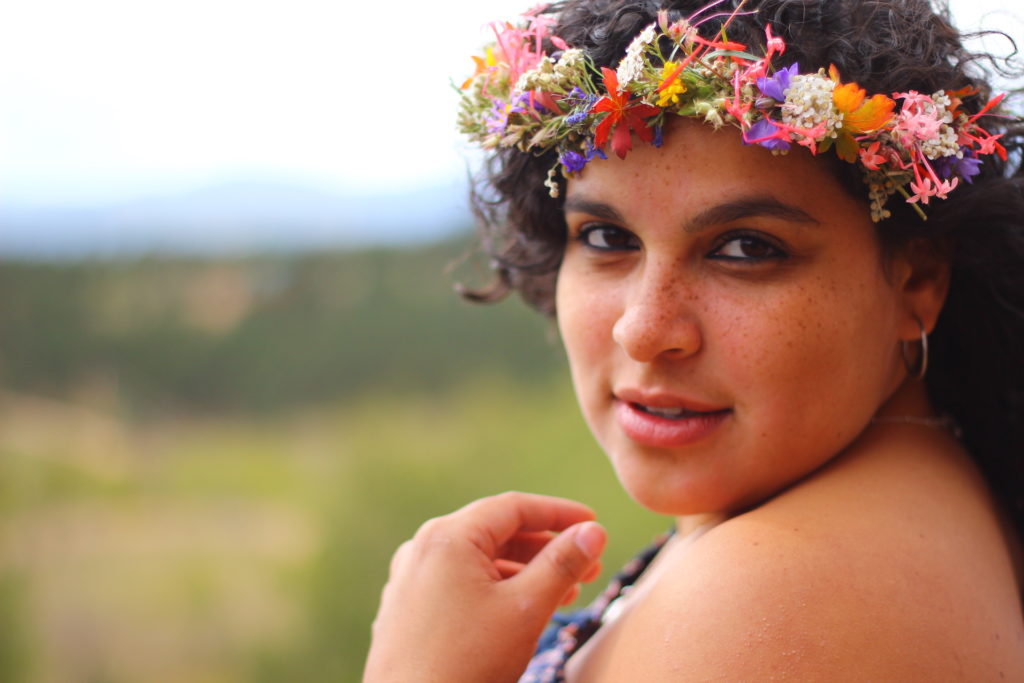 That first block break was a much needed break from the stressful first block and most importantly, I got to spend it with my friends. The tedious hike up to the cabin (I'm just not fit) is really worth it, once you're up there looking out over the trees. I spent some time reading, and relaxing, taking a yoga lesson with Melina and practicing hand stands with Ana Gaby and Jordan. If you ever find yourself considering whether a short holiday in a cabin in the woods (and mountains) is worth it – yes, it is!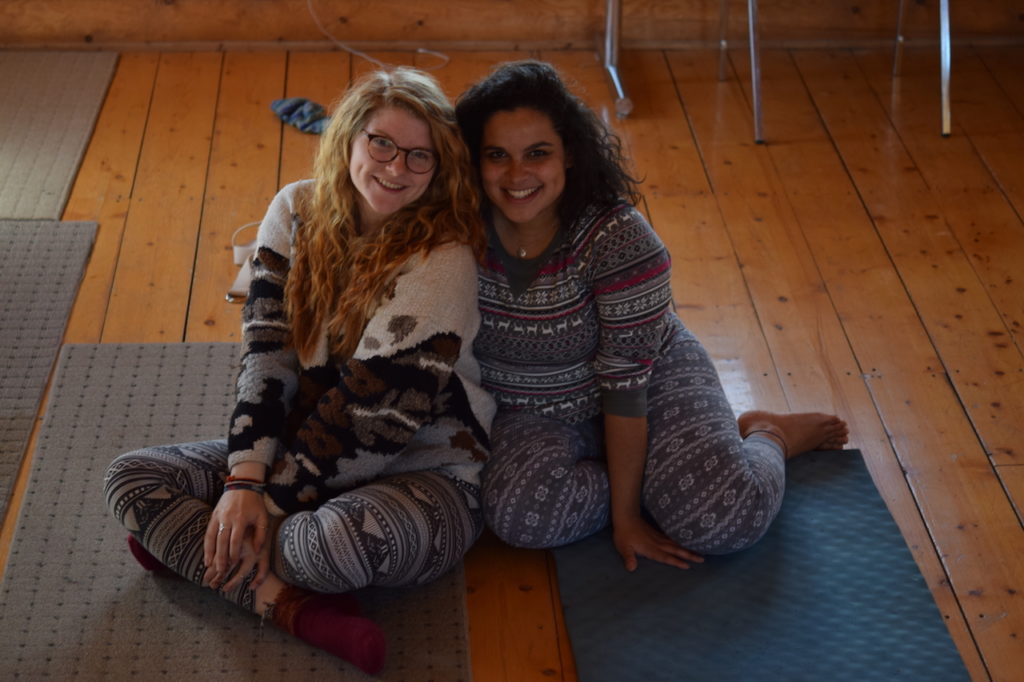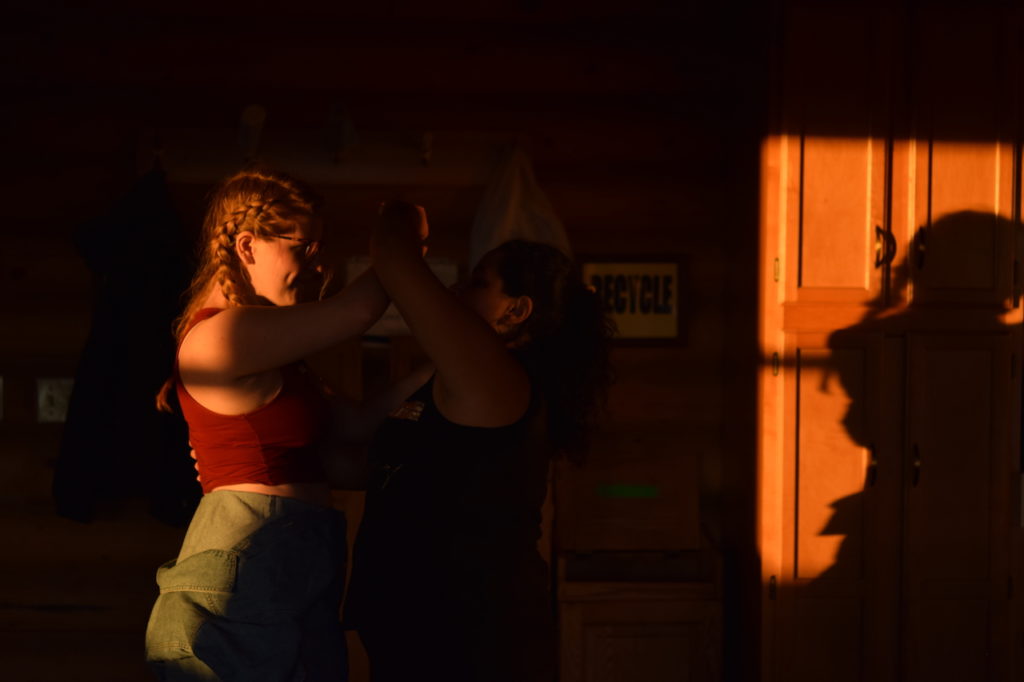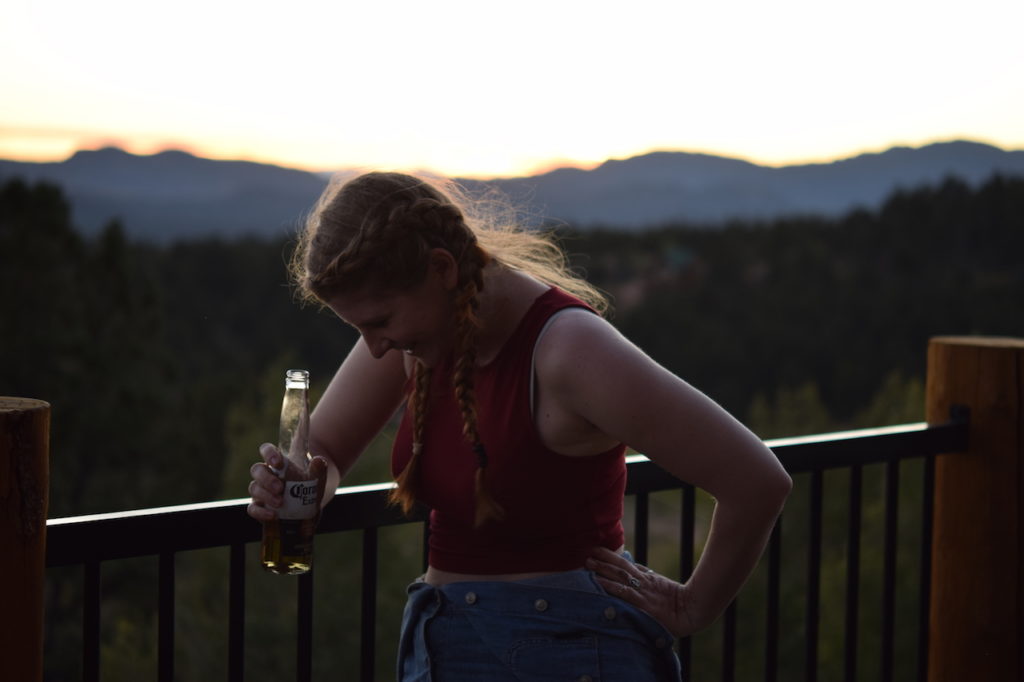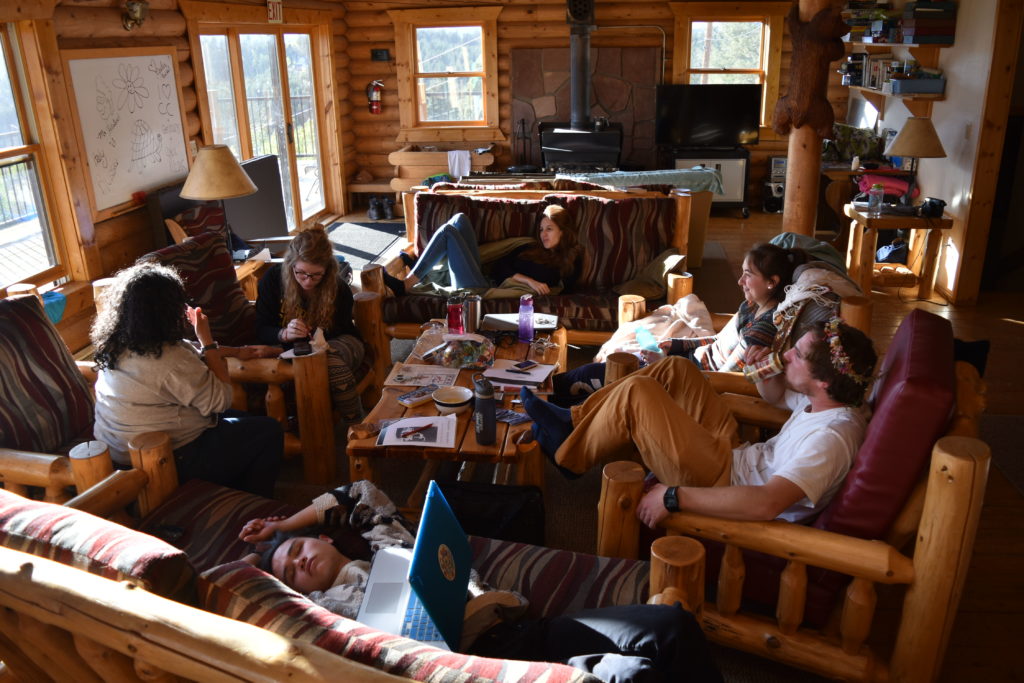 The second trip, my absolute favourite, was originally described here. Since it's my favourite, it kept expanding though and really exploded the length of this post, so I've moved it to its own post: Sherwood Forest Day – To Go Down in History (at least in mine). Honestly, it deserves its own post! It was one of my happiest Colorado days, I think. Almost like a snapshot of the happiness I feel here, at ease and content with myself, excited by my life, feeling challenged yet accomplished. I wanted to freeze that moment, though frozen it can't be lived. So I wanted to stretch it, but not compromise it. I just wanted it to continue much longer than it will. When I go back to this day I feel that happiness again of a day that kept getting better and better. Yes, a separate blogpost is well deserved.
After that, not all too much more happened, that seems grand enough to point out here. Since Jordan was gone and my access to a car largely decreased as a result – something I made sure to change now that he's in Germany for four weeks – I spent most of the rest of Block 2 on campus except for the Boulder trip and my first date at Fujiyama with Hannah. The sushi place has a 50% off deal on Monday's, and we are not sure how we managed to get seats that first time because people line up 30 minutes before opening to get seated at all. Maybe it's just the charm of pretend first dates? We might never know.
Second block break was both more exciting and less exciting than the first one. We finally got around to doing an escape room with Jordan, Adey, her cousin and one of her best friends, which was a blast and dangerously addictive. I have been pestering people to do another one with me since. We also drove up to Denver and attempted to go horse riding, but that fell through because we miscalculated the location of the place we wanted to go to and the availability of all others. So, instead, we blindly drove off into the mountains where, lucky us, we found a friendly horse that was willing to be patted by us for a while. Eventually though, we said good bye and made the poorly reflected choice of taking the scenic route from Denver to Colorado Springs without packing food or enough water. There was one town a little further than halfway which consisted of one restaurant (at least one though) that served a gigantic portion of nachos which was absolutely sickening. By that point I had already been suffering from a terrible headache for an hour and weirdly that food didn't help. At all.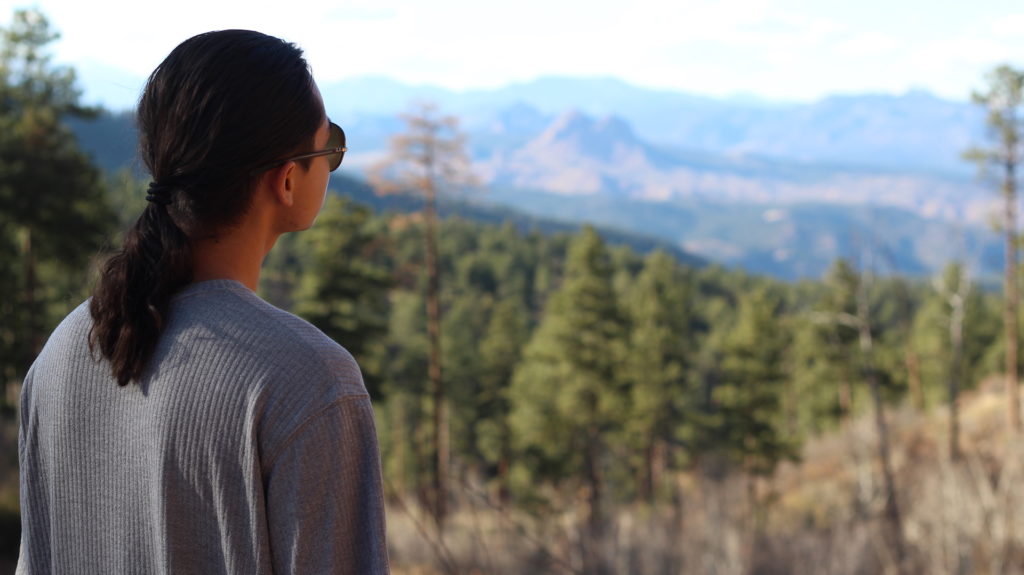 It's funny how I still had a good time though. How I still had the energy to get out of the car and marvel at the views we passed. I wonder if that's just Colorado. It's simply a good place to be. It's November, and it's not even all that warm all the time. It's just sunny. The week long episode of rain a while back, which terrifyingly reminded me of Germany, remained an episode and I haven't seen a drop of rain since. I eat outside on the patios of restaurants and our cafeteria. I put picnic blankets down and spend time out on the grass. I show my midriff. In November. I see the mountains every day. Honestly, how can a person be unhappy in Colorado? Maybe that's stupid question to ask. How can a person not love, or at least to some degree enjoy, Colorado? This place is gorgeous. I hope this post (and the Sherwood Forest Day one) diminished any doubts you might have had about that.