Sometimes I get ideas and usually they range from moderately crazy to impossible from the get-go. When you have an idea like that, no matter which kind, because it comes to you while riding your bike or desperately trying to sleep, you need to do everything in your might to make it possible. So when I rewrite a song for my best friend and know I have no time to learn it, record it and film a video to accompany it, I have to do it anyway. And so I did.
We have been friends for eight years and don't talk all the time, but it's good when we do. I guess I don't need to say much, because it's all there in the video. So instead of gushing about Eva more, I want to thank the three guys who helped me make it in time. For the music I have to thank Max, my guitar teacher, who taught me how to play the song and then took the time to play it for the recording. Then there is Florian. Another one of those friends I see way too rarely and who tackled my camera despite feeling like he wasn't qualified to. I think he did great, by the way! Then there's Jonas who arrived late and still helped speed the process up by filming when Florian was getting his hands dirty and colorful. Thank you, thank you, thank you!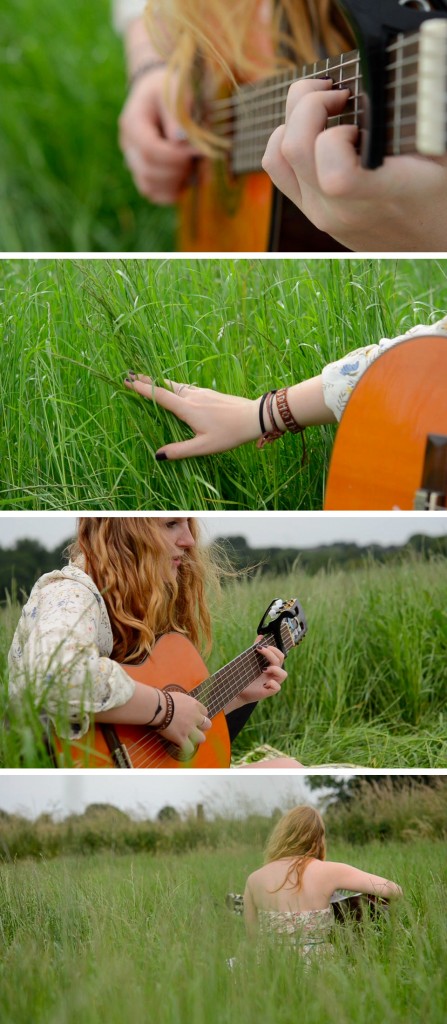 As I said, I have all these ideas and most of them cannot be realized because they are too big to take on by myself. When it really counts though, there are these people who stand by me and put time and energy into a project that isn't theirs. That's pretty amazing, in my eyes. To go out of your way for a person you might not even know just to help a person you know.
Color storm.
Retrospectively I hope they had as much fun as I did. Everything is fun actually when you do it with Florian, so that was definitely a win, too. Today I had even more fun, looking at the few photographs we took and then extracting stills from our footage. Now I wish we had photographed the whole process, because I really love the bloopers we captured by leaving the camera on.

Three stages of a Florian photo bomb.

Communicating "on set" looks a lot less attractive than it feels.
I have so many more video ideas in my head, so if you are reading this and are interested in helping film a video that might or might not be a lot more complicated than this one, just let me know! I will probably conduct a little dance in celebration and get planning right away.
I am grateful for my amazing friends and especially for you, Eva. Schnapsideen für immer! If you have one, I'll be there and help you with it.
Happy Birthday.