It's been a week since I arrived at Colorado College in Colorado Springs, Colorado, USA, for my semester abroad. It feels like I have been here much longer. Not because I already know my way so well in the place, but because there has been so much happening that it easily could have filled twice the amount of time. Classes haven't even started yet.
As an international student, I arrived a few days before other new students and got to spend four exciting days with all other internationals. I realised that I'm one of seven students who is here for an exchange, and one of the two unfortunate souls who only get to spend a single semester here. Which is an insanely small amount of time, but more on that later. International Student Orientation (ISO) was so packed with meetings and sessions and activities and events that I didn't have a moment to unpack until five days later. Despite being very exhausting – don't underestimate the jet lag – they were amazing orientation days in which the mentors and department staff went all out to provide us with an engaging program.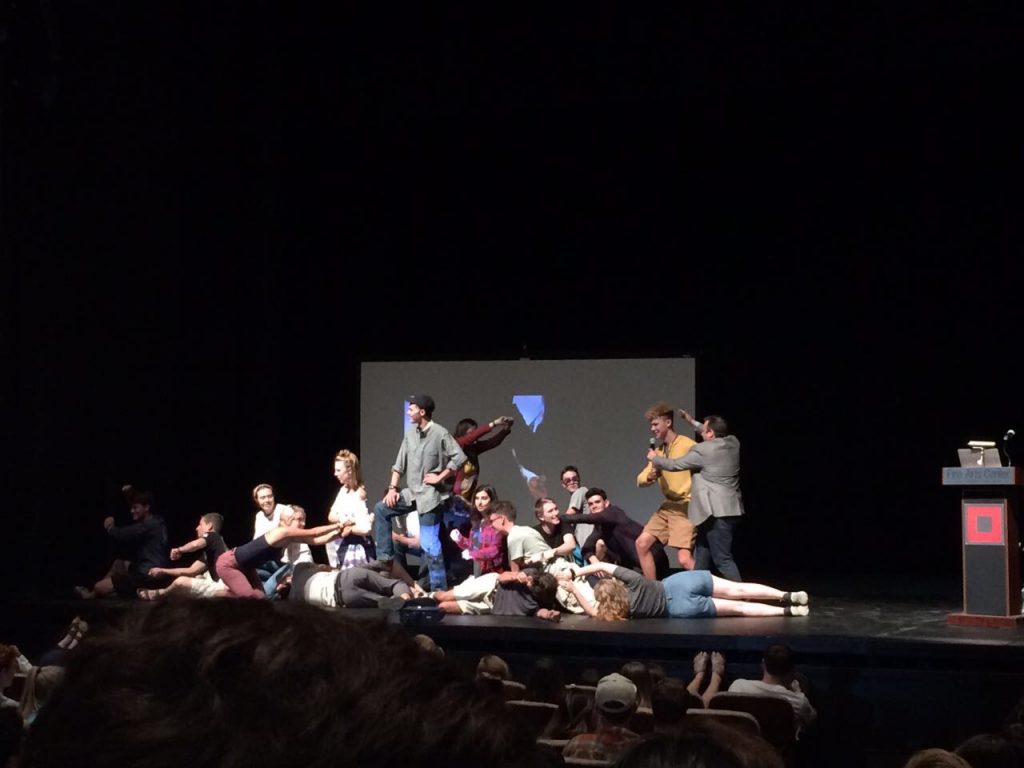 Aside from informational and often tiring sessions, we took part in a scavenger hunt across campus, took fun photos, performed paper bag skits, and topped it all off with a night of karaoke, all the while getting to know our fellow international students. It gave me time to bond with the three other German students, and a few of the CPCs which oversee the language houses. We are all a little older than most of the other incoming students, so it's a good fit. The free time (mainly nights) we had, we've spent watching movies, playing pool and taking a trip to Walmart, which was mayhem. We also invaded and raided the "book shop" which is basically an oasis of spirit clothing. I got my first Colorado College shirt there!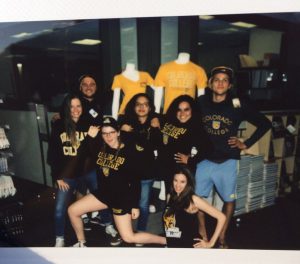 The Freshmen arrived Saturday, which was a more chill day for us. There were still events and speeches we had to attend, but the barbecue on the grass was delicious, and we had some time to hike to a thrift shop to get some cheap board games and clothing for the Priddy trip. All new students go on a four day trip doing community service as part of the New Student Orientation (NSO). The trips usually involve hiking and camping much in the CC spirit. The outdoors are really big here and free hikes are organised and lead by fellow students throughout the semester. There is so much to say that it is hard to stay organised in this post. So, for now, I will try to stick with highlights of my first week, and first impressions.
Manitou Springs: Local buses are free for CC students and in order to learn how to use them, we took a bus trip to a nearby town with ancient arcades, good pizza, and great polaroid photo opportunities. There is also a mineral spring of water which can be tasted – it's a bit sour, but at least not like the rotten egg I'm used to from the hot springs at home.
The German house is amazing! I will write a more detailed post some other time. it deserves its own post, trust me. At the moment, though, I'm still in the luxury of having my own room. My room mate Evva won't arrive until next weekend since she's not a new student. I am super excited to meet her, but the thought of sharing a room is intimidating. Last time I had to do it was when I shared a tiny room with my brother, and that wasn't fun.
The campus is gorgeous. There's a lot of greenery and nice looking houses, and the best part is stopping once a day to gaze at the Rocky Mountains close by. Their sight awes me every single time, and they are so close, too!
I have more things I want to do than there are days in the week. CC offers too many opportunities for us one semester exchange students. A department fair today and the athletics activities yesterday made my list of interests even longer. I want to play tennis, ice hockey and go nordic skiing. I want to try out for the acapella group, the dance workshop and Beckett's Circus. I want to get a job with the German department or any other department on campus, really. I want to see the plays offered at the Fine Arts Center and go to all the other events like spoken word evenings and book readings. I want to join at least one club, but I haven't learned about any of them yet, so by the end of the Student Activites fair I will probably want to join twenty. I want to make the best use of my block breaks and go on at least one trip organised by Outdoor Education. I want to get involved in the community and go with Breakout at least one weekend. Apart from all of this there are so many beautiful sights and events off campus, too. I want to go to Denver, I want to go hiking, I want to see the waterfalls, I want to go to the 1$ cinema, I want to go to Red Rock, Garden of the Gods, Ghost Town even though I have no idea what it is. . . Oh, and I'll have classes, too.
There's food everywhere. No matter what event you go to, you'll at least be offered cookies, if there isn't a full buffet waiting. It's honestly insane, and a little scary. My figure isn't liking it. Today at the department fair, don't know the official name, every single booth had some sort of snack available. Today after the Fine Arts Center speech, there was a cookies bar. Tonight at the International Students reception there was a huge plate of fruit and "fancy desserts". Yesterday at the athletics activities we got Jimmy John's sandwiches. Food everywhere.
Tomorrow we start our Priddy trip. So, I hope I'll find time for another post when I come back. For now I can just say that it's been exciting, exhausting, overwhelming and really motivating, and I'm happy to be back in the US. These blog posts are going to be more informative than creative, I think. But I might prove myself wrong! And in either case, if you've come to check out what I get up to back in the US, you're in the right place. After all, I wrote my first ever blog when I was here during high school. Oh yeah, photos for now are mainly cell phone pictures. There hasn't been that much time to get my camera out. But I've packed it for the trip. Here's to more adventures.
Cheers.