Life is busy, but before I make time to write about the everyday life at CC, I want to share my first proper camping experience with you. Five days in a six person tent, no showers, only a pit toilet, community work and late night four legged visitors. Except for the animals, it's all part of the Priddy Trip that all first year, transfer and exchange students go on as part of New Student Orientation (NSO). Ours was a side country trip to Estes Park at ca 2300m in the mountains. When I first heard about the trip, not knowing where I'd be going or with who, I was super excited. The groups are made up of 10 students and two trip leaders and go to all kinds of different places, including locations in neighbouring states like New Mexico. Each group does a kind of community work. For those going into the backcountry it tends to be trail work. I think it's an awesome idea. You get to know people, you learn about life at the college in a beautiful environment, you get to go somewhere!!
But when we left on the bus that would take us the three hours to our location, all I wanted was to turn around. In the meetings we'd had I had not clicked with any of the other "trippies" – they were all first years, a good four to five years younger than me. I couldn't relate to what they were talking about, I couldn't relate to the way they were talking. I put in my ear buds and listened to an audiobook. There was no use in trying to click with them. I had done that, it hadn't worked. By this time I was frustrated and not having it. So, that was not a great start to the trip. We got to our location, MacGregor Ranch, and at first that, too, didn't look like very much. There were just pine trees everywhere, a fire pit, benches, some picnic tables, a shelter of hay and a water pump a bit off camp and said pit toilet. Which had one toilet. For 24 people. It is worth saying at this point that there were two groups of twelve at that location, and that we set up our tents across the campsite from each other.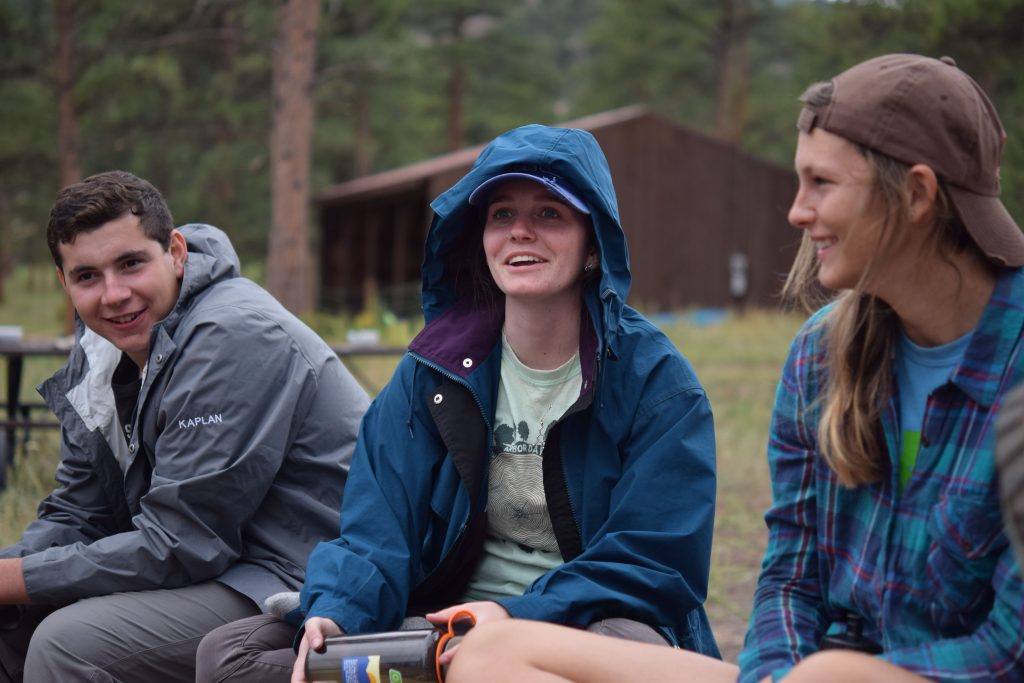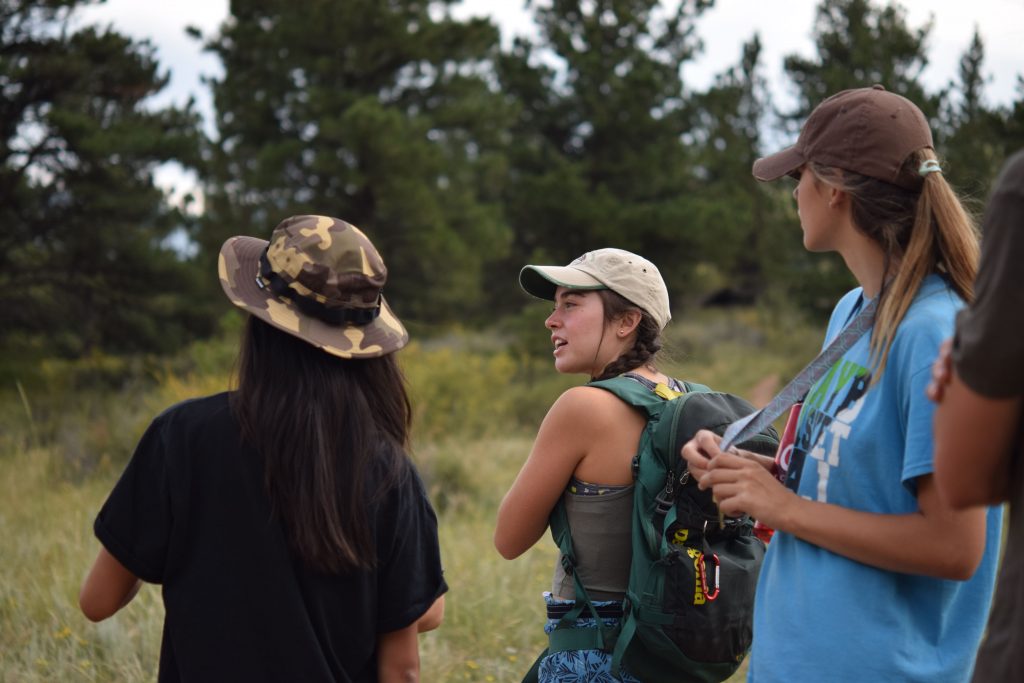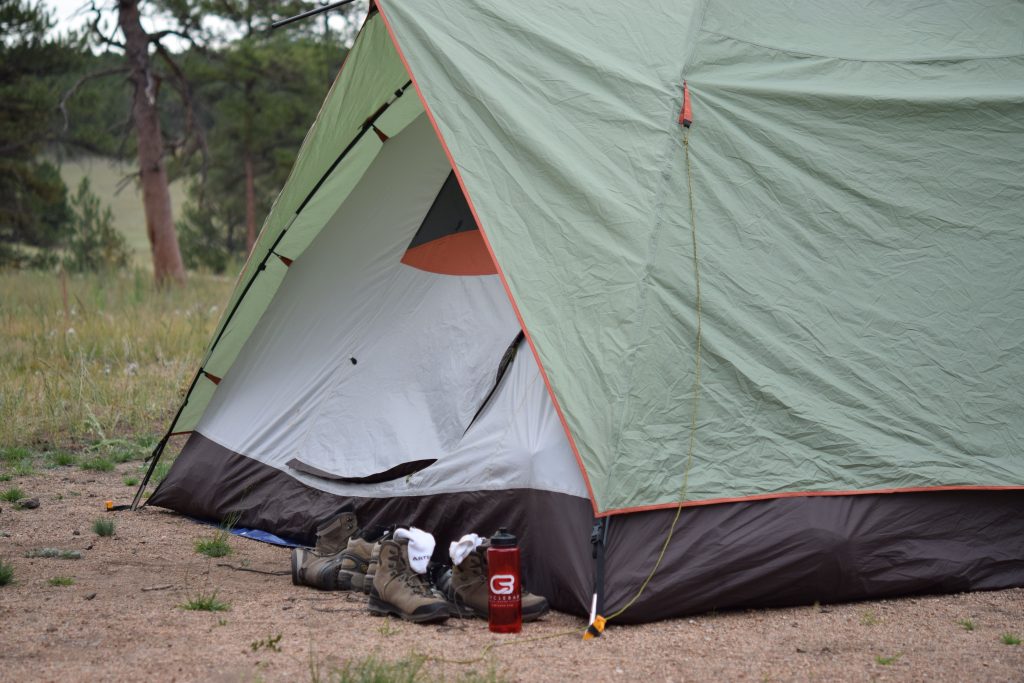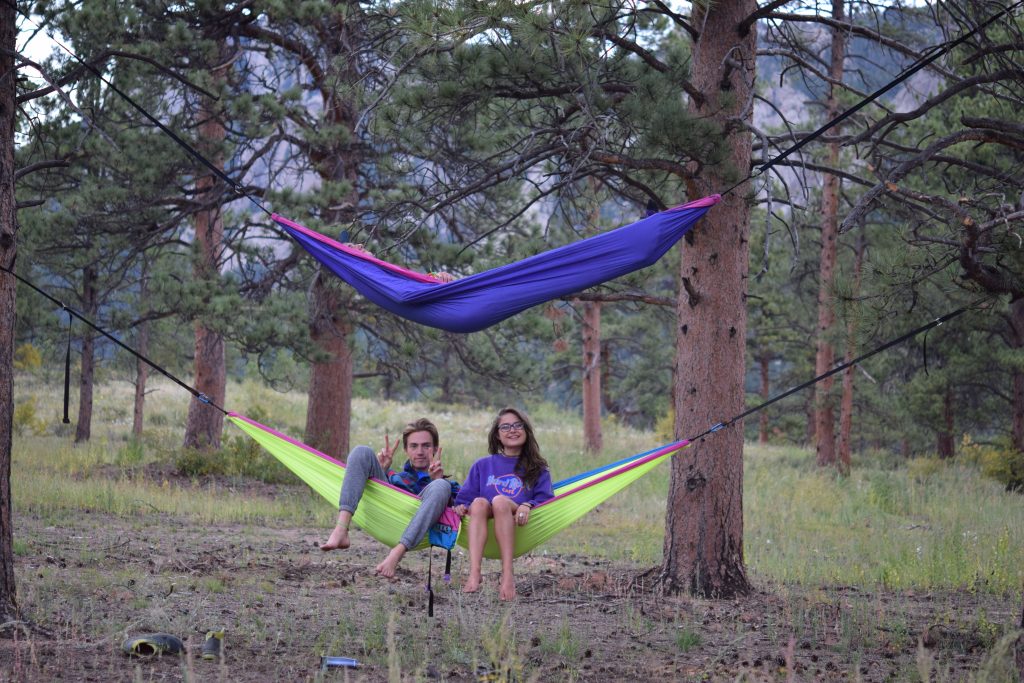 Community work, which we weren't quite sure yet what we'd be doing, wasn't going to start until the morning, so our group – MacGregor A – decided to go for a hike to scope out the area. Another frustrating experience. I took my camera but whenever I stopped to take a picture, I had to run to catch up with the group. Whenever I wasn't taking a photo, I didn't manage to latch onto any of the conversations, so at some point I asked the trip leaders whether I could turn around early to take my time on photos on the way back. Martrice, a lovely girl in the group, got worried about me heading back by myself, but our leaders, Rachel and Lucy, weren't too worried. I think they didn't quite know what to do with me either, since I was some years older than them, too. I turned back and already my trip experience got a boost. It's not that I took the most amazing photos, but at some point I saw two black horses in the distance.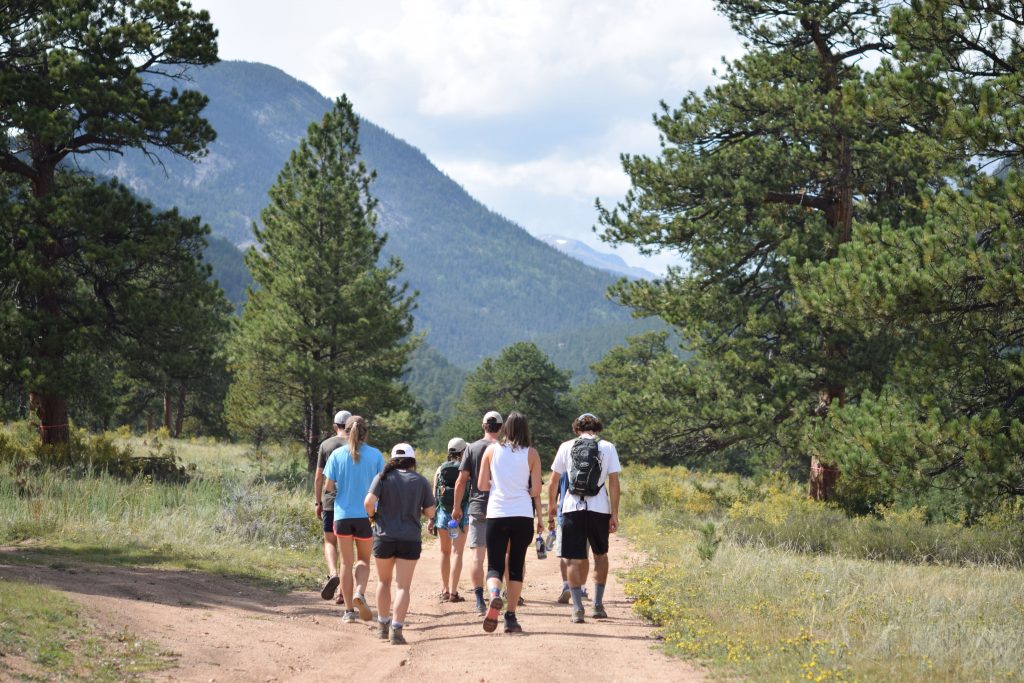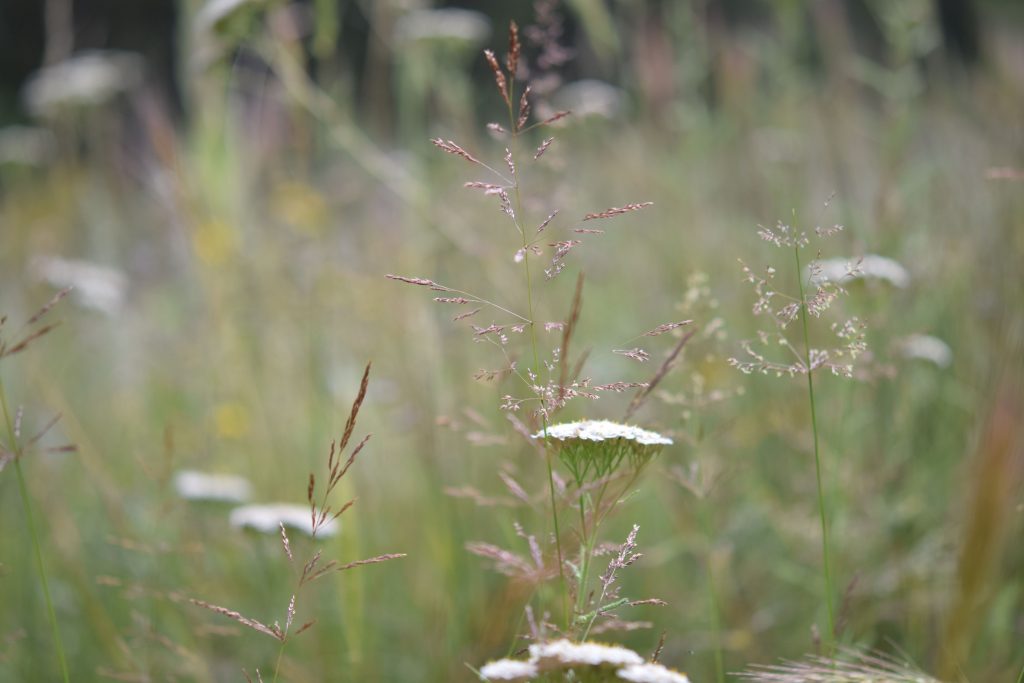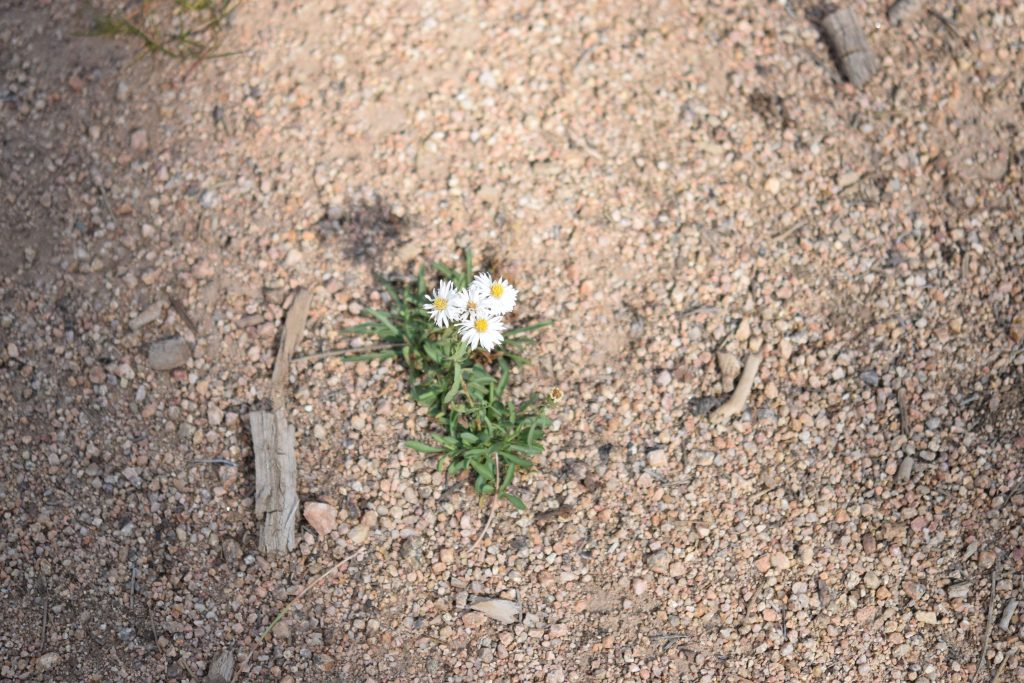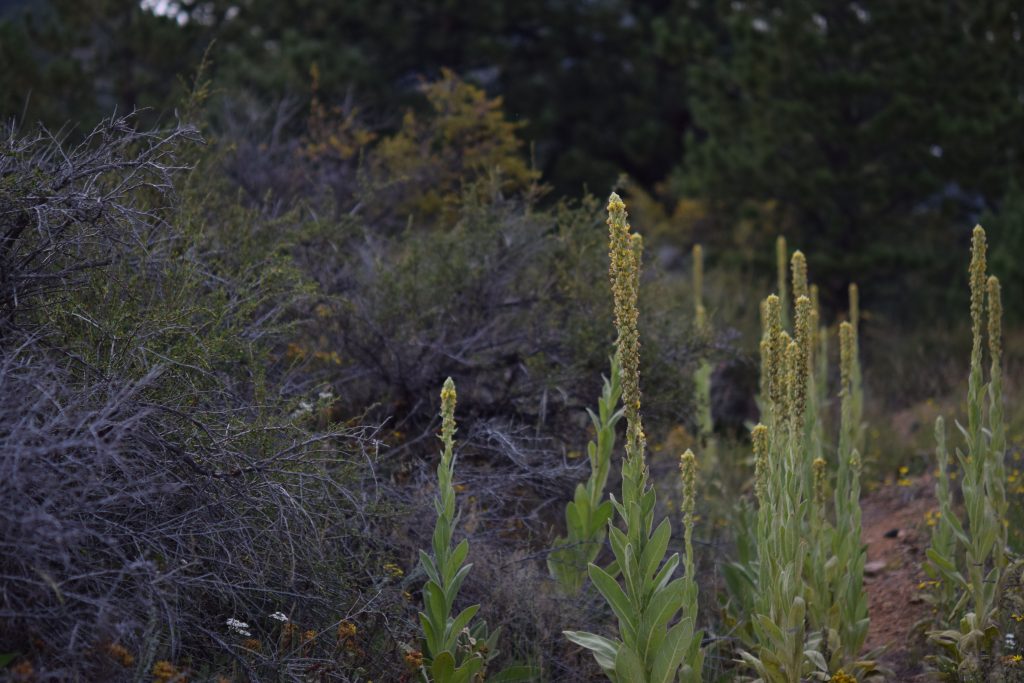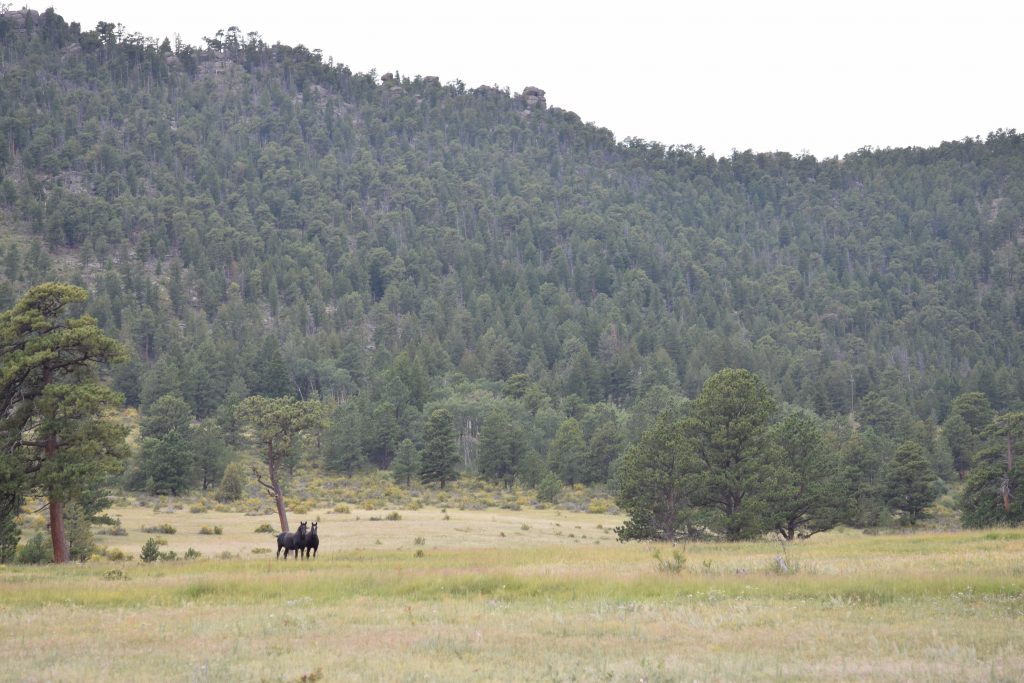 Okay, I had promised Rachel in a joking way that I was going to stick to the path, but I decided to pull a Red Riding Hood and head towards the horses to get a better shot of them. Bad idea. Not because of the horses, but for some reason the otherwise perfectly dry grassy area decided to include a hidden patch of extremely not dry grass, and I stepped right in. With white sneakers. I was soaked within the second. Especially since I decided to not go straight back but go diagonally and just ended up sprinkling my legs with much more muddy brown water. Granted, this doesn't sound like my experience was picking up. As I returned to the trail, I spotted more animals on the other grassy side of it. Two elk fighting with each other. I thought I hadn't taken a photo of that because I was trying to get a better look but when I checked photos for this post, I actually did find one! It's not good, but it's two elk fighting! I was super excited.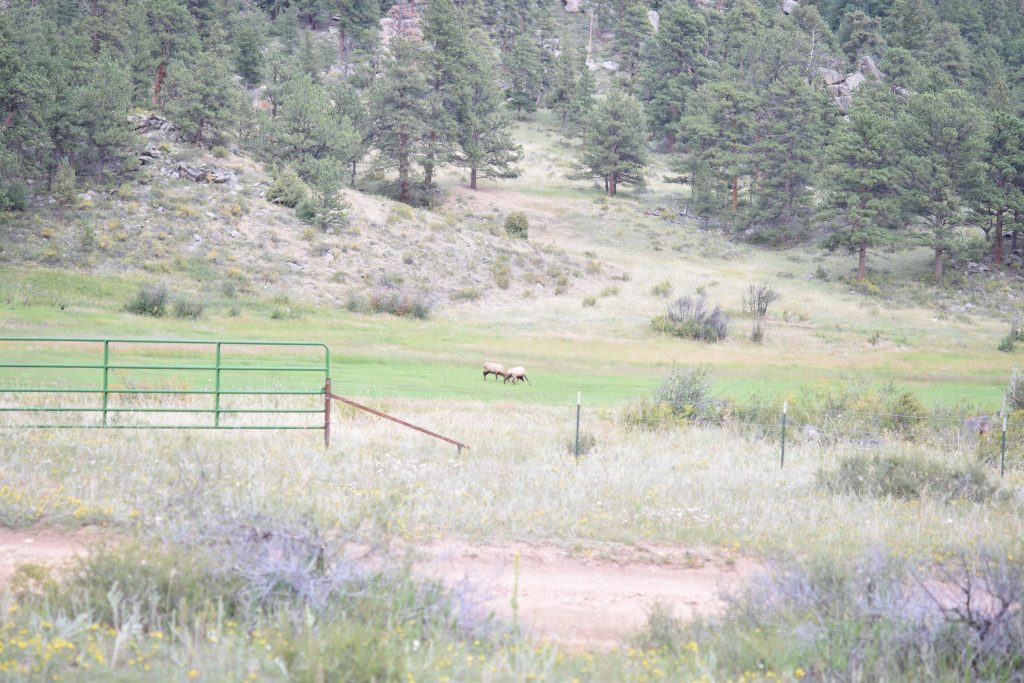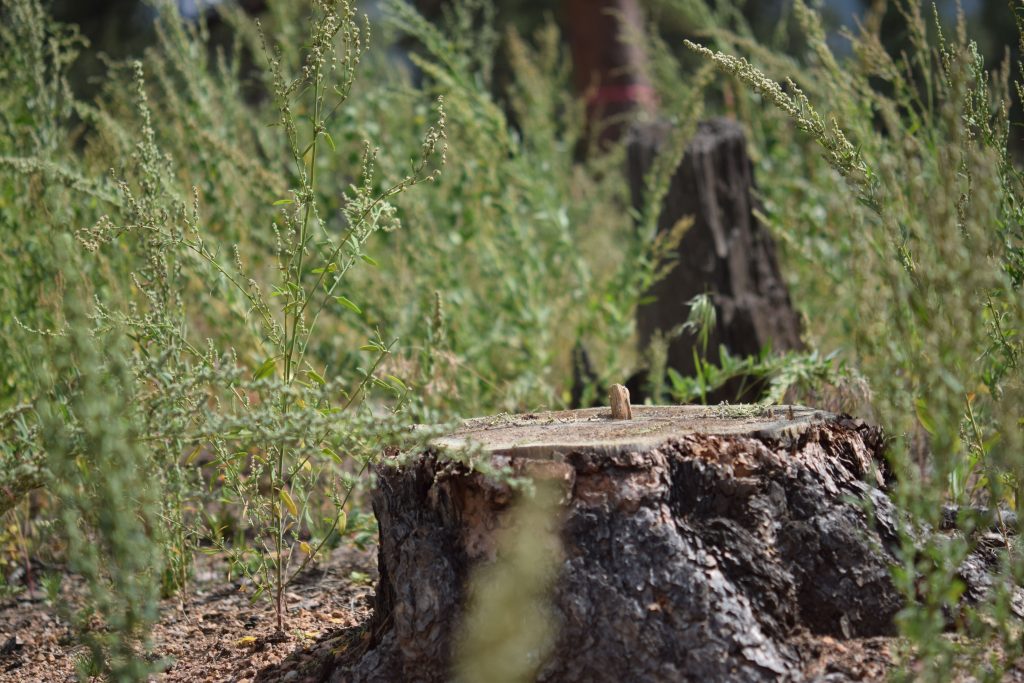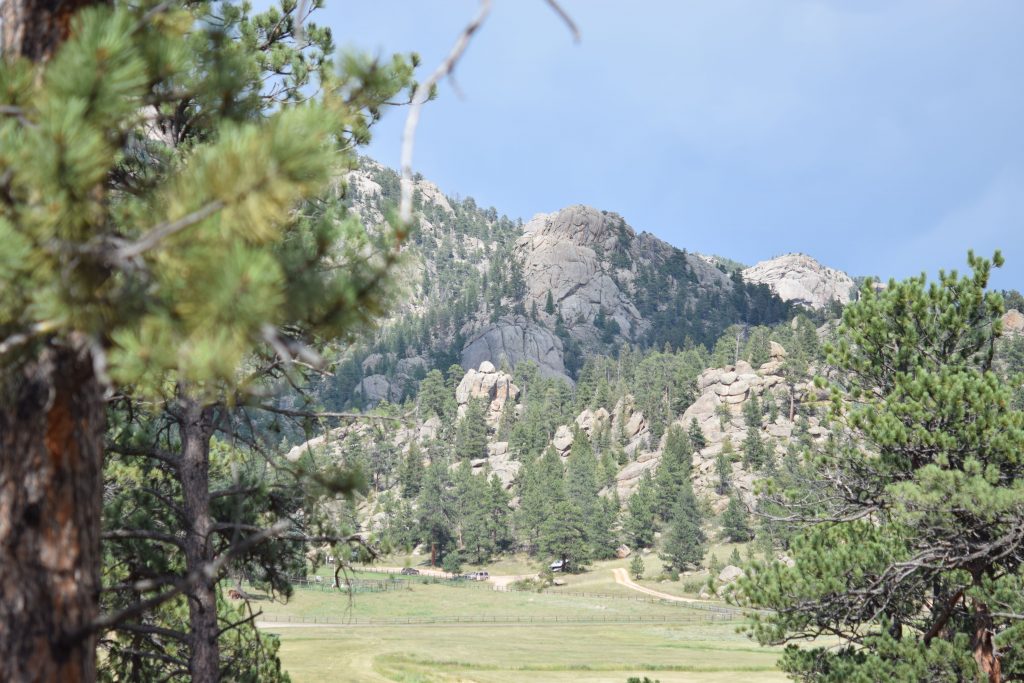 When I got back to camp I was keen to start writing a letter home. The other group was sitting around the fire pit – it wasn't on, it was early afternoon – playing hot seat. I sat down with them and began to write, but didn't get further than a few sentences until I got pulled in, listened and eventually joined. It felt like a relief, like I was finally getting along with people. When it started raining, we crawled into their tents, and I showed them Dixit, a game I brought from home, which caught on well. I don't remember much else from that day. It felt good getting to talk with people and not feeling like I was constantly aware of the age gap. I think that was also the day we made noodles and had so many leftovers. It is a mystery to us still how MacGregor B managed to finish all of their noodles. It was so much, and it's not like we didn't have second helpings. We hung up bear bags for good measure that night. B didn't, and we decided if their food would be left untouched in the shelter, we wouldn't hang ours up the next day. It was a good experience though, stuffing all the food into stuff sacks, finding a good technique to secure them with rope and then hoisting them up a tree. I wouldn't want to do it every day, but I enjoyed learning how that stuff works.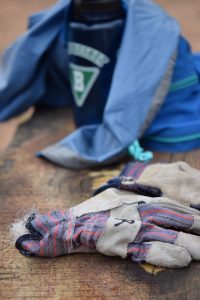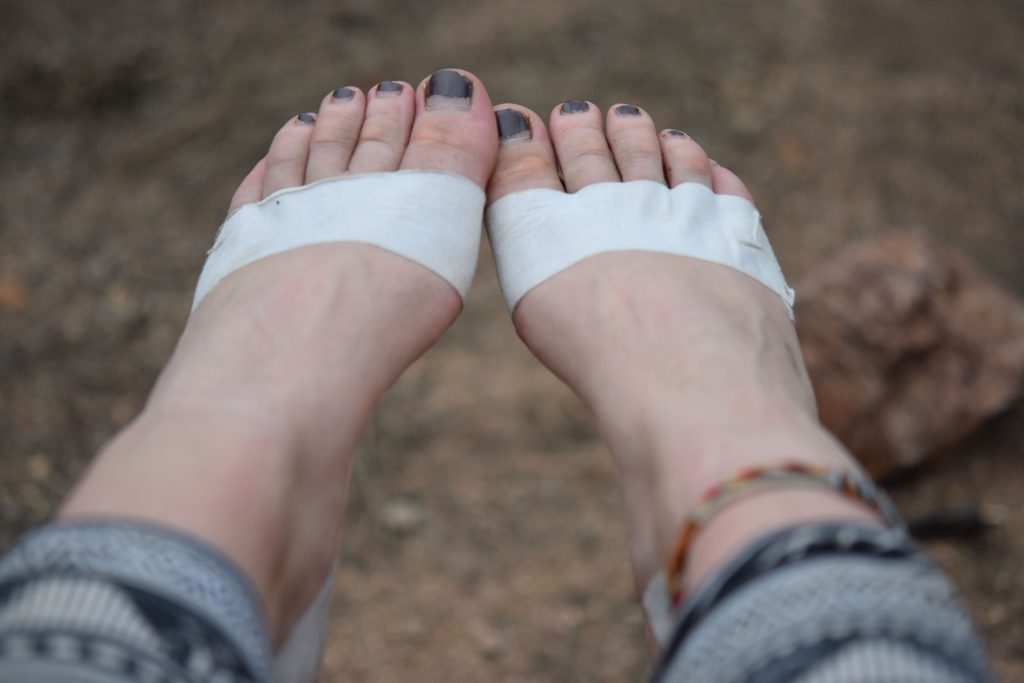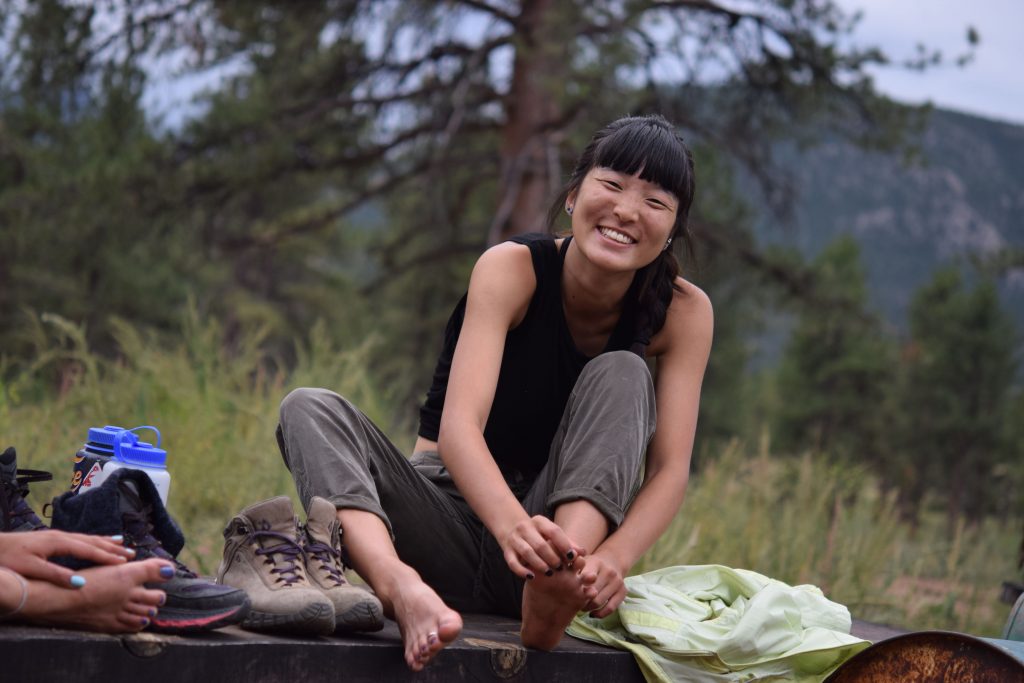 Day 2 was a work day. Kate, the owner or something of the ranch, came by with donuts and kinda sorta didn't explain exactly what we had to do. There were two jobs: 1. making slash piles of broken wood pieces that covered most of their property, and 2.  collecting pink ribbons from the trees on that property. I was in the collecting ribbon group, there were four of us. To this day, we have no idea why many but not all of the trees had pink ribbons on them. Kate told us our area of concern reached as far as pink ribboned trees, which – if that's the reason – makes even less sense, because they weren't just marked around the edge of the area, but everywhere. I didn't know how ridiculous her instructions were when I started out, but I should have known when I thought I had an idea of where I was collecting ribbons only to turn around and realise I was somewhere completely different. In short, I got lost in the first five minutes. Things didn't really get better after that. Our ribbon bag was located close to camp and we thought we would just keep coming back and heading out. But I started collecting ribbons in an area, then seeing some further along and thinking "Cool, I'll just do that area quickly before heading back". It's not a tactic that works when literally all you see is goddamn ribbon everywhere! I did this for three hours, following the pink, collecting ribbon over ribbon until I looked up and saw an animal. It looked like a sand coloured dog, and as we stared at each other I remembered the howling some of us had heard the night before. Then the coyote trotted off and disappeared behind a rock formation.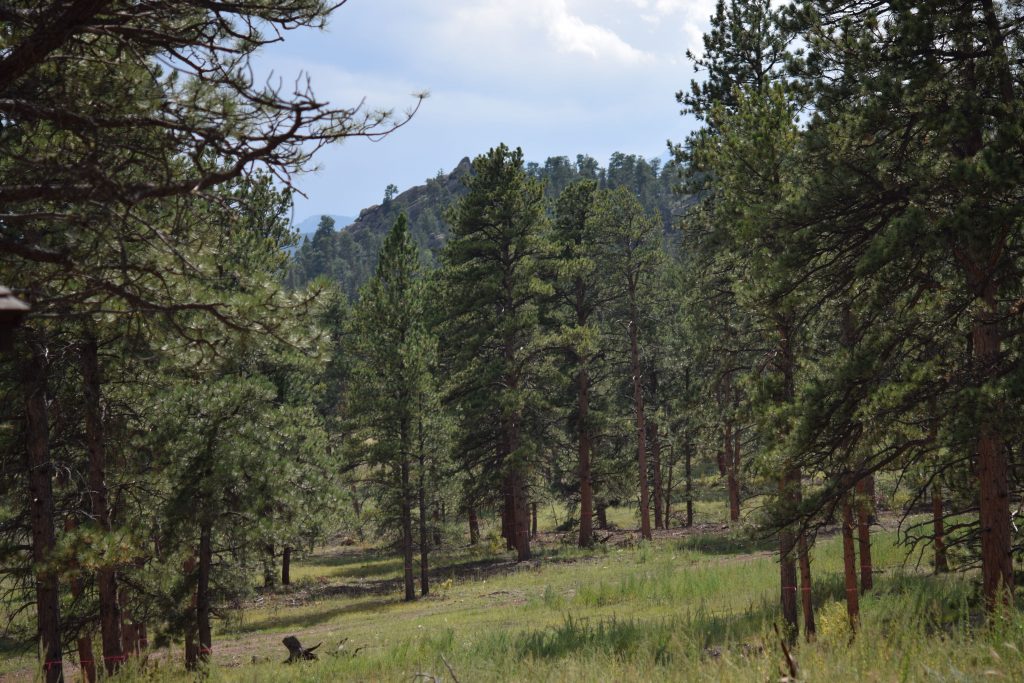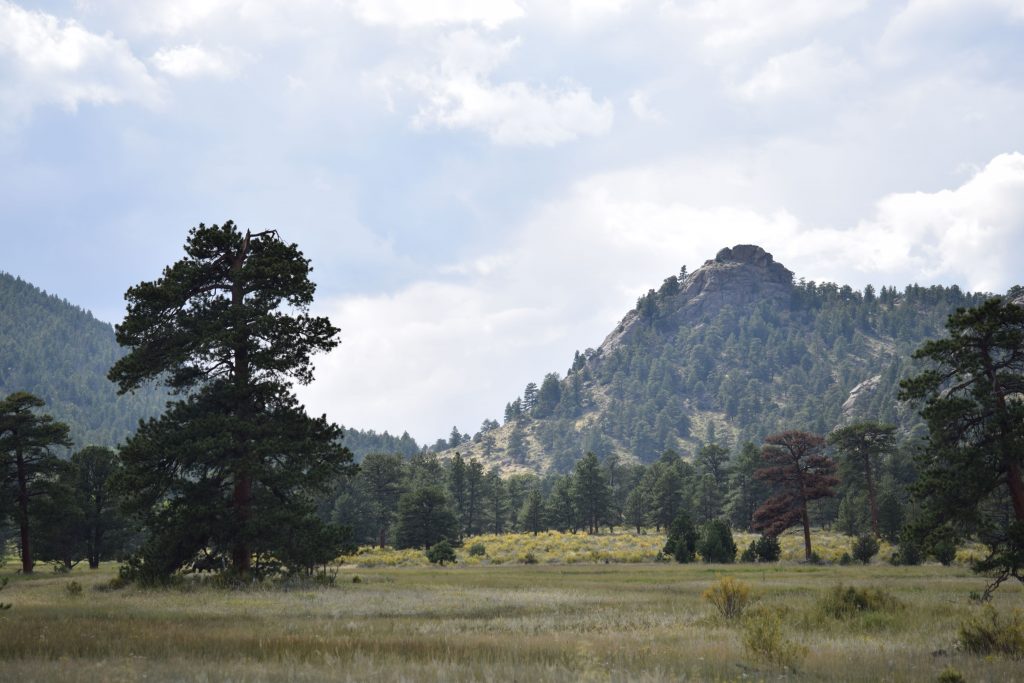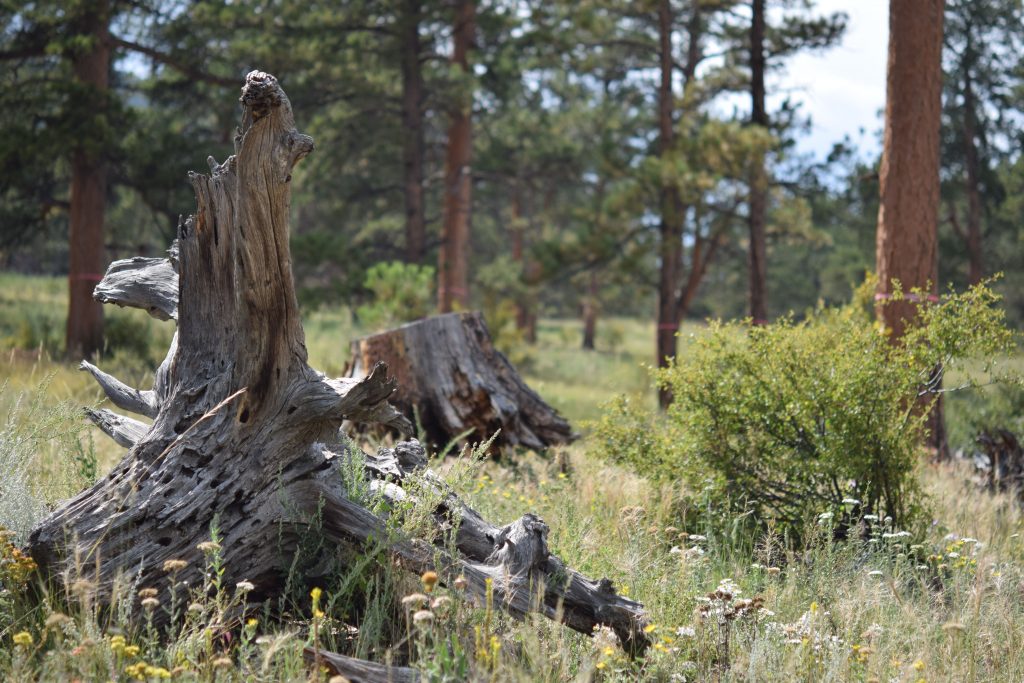 We all returned for lunch, and went back out to work after. This time I set out with Martrice, and I was smart enough to take my phone for an audiobook. Again, we got lost on the huge property, stumbling from one randomly ribboned tree to the next until we were by a rocky mountain that had seemed far away from camp. At least when we finally came across some of the others, we realised we weren't the only ones who were over it for the day. To be quite honest, I don't remember much else of that evening. One other quite crazy thing happened, however. That evening we didn't hang up bear bags and instead brought everything to the shelter. At one point in the evening when we were all sitting around the fire, as I just got up to go to the bathroom, our trip leader Rachel said she was hearing noises. It really freaked me out. When I came back she was just saying how we should go to the shelter and make sure no animals had gotten to our food. I agreed, grabbed one of the other trippies' hands and together we began walking to the shelter. Then our head lamps were reflected by the eyes of two huge black creatures. We screamed until our brain registered that they weren't bears. They were the two horses I had seen before. And they were gigantic. Their hooves were bigger than my foot, their heads enormous. But they were calm and friendly and curious. We brought them some hay from the shelter and then stood there cuddling the draft horses beneath the starry sky. I don't think I ever experienced anything more magical.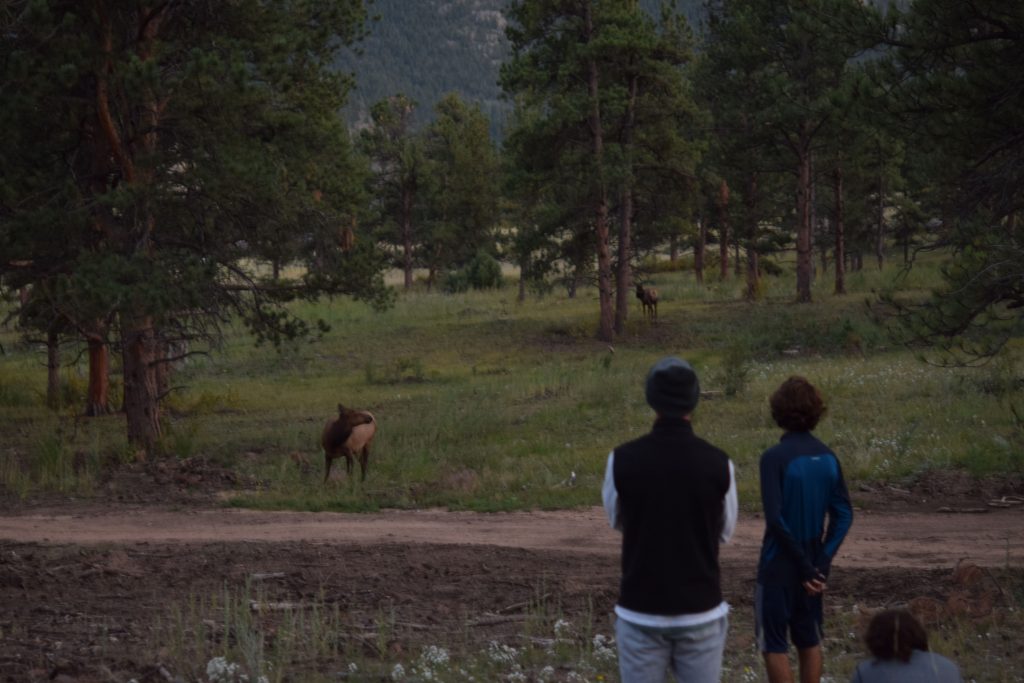 There isn't much to say about Day 3. We made an attempt at work in the morning, but no one was feeling it anymore and since it was voluntary work, we weren't too heartbroken about it. Part of our group went on a hike to a lake that day. I didn't join and I didn't feel so heartbroken about that either once they returned and told us the "Gem Lake" was in reality a leech infested pond that no one could go swimming in. That day was pretty quiet. We all sat around and gave each other henna tattoos, took naps and just enjoyed being out in nature. Lone wolf Chris went and hiked up a mountain or something and he came back with all his limbs and his sanity, so we deemed it a successful day. I don't remember when and how exactly, but my group had grown on me. I loved talking to them and making plans that were beautiful dreams, aware that they may never become reality. They asked me about Tod, too, and I was very touched when one evening Alena said that her favourite part of the day had been my stories.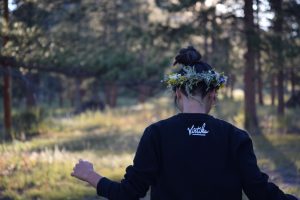 On our last day we walked into the nearby town to a farmer's market, to share tasty humongous pizzas and to collectively shop at a thrift store where I purchased my first ever voluntarily bought rain jacket. Now I am perfectly protected against Colorado's ten second drizzles. The rest of the day we spent playing card games with weird accents, and I learned how to make my first lei po'o which gave a good reason to go all out on photographs. On our last night we sat around the fire with both groups and sang songs for a few hours. It really ended up being an amazing trip. Throughout it I marvelled at the ever increasing griminess of my feet, and I enjoyed the camping experience so much that I recently turned in a Venture Grant proposal to do it for nine consecutive days.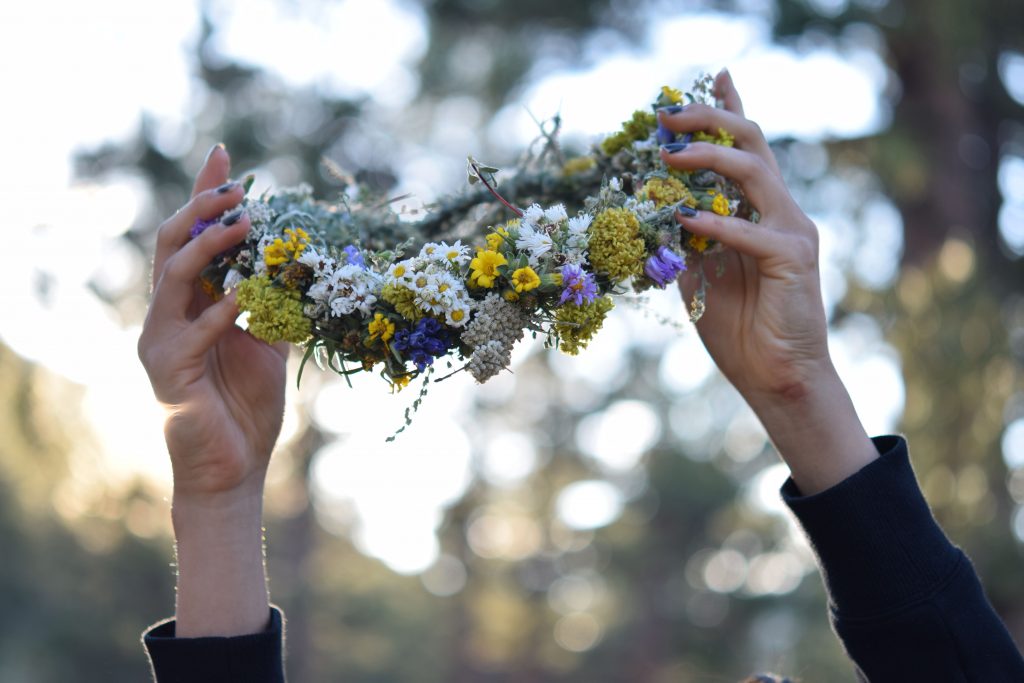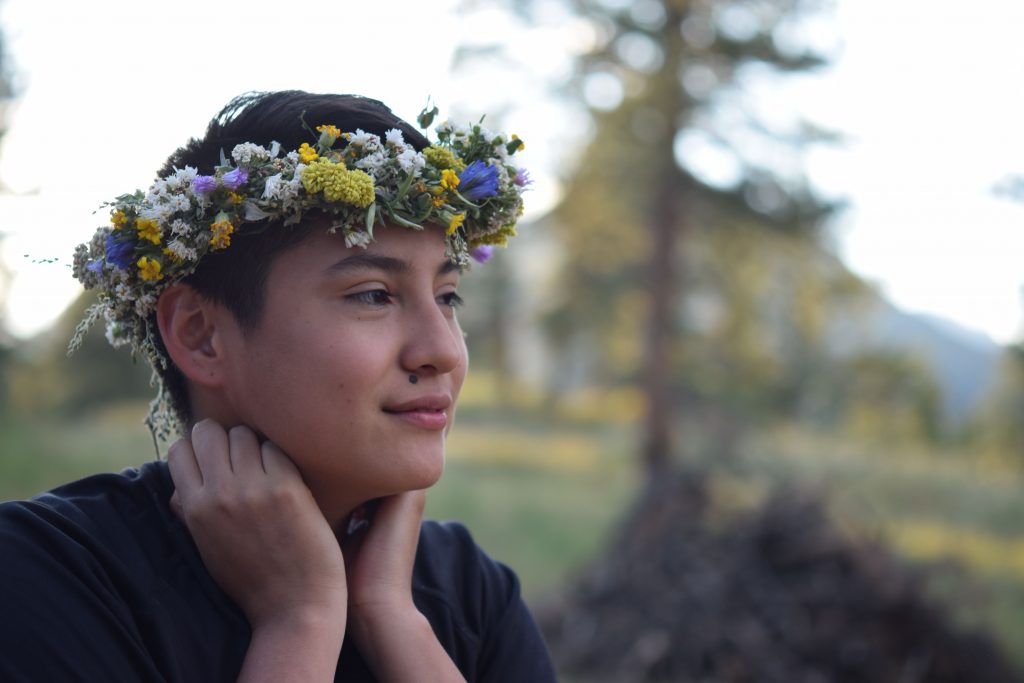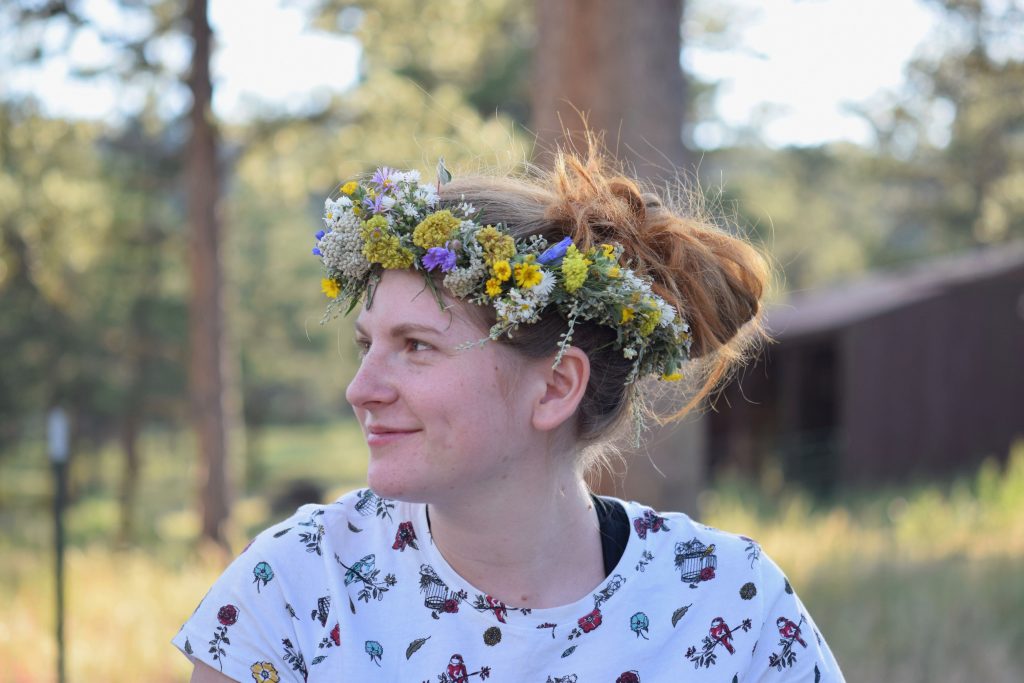 The block plan has completely taken over my life and pretty much the only people I spend time with at the moment are my project group members. The Priddy Trip seems ages away, although it's only been two weeks since we returned. It was an amazing experience, as is most of what I do here. Except the stress, that's not quite as much fun. Despite it, I love CC, and I love being here.