After the amazing time we had at the cabin, Jordan and I wanted to take another trip together, although he only had another week before having to leave to Arizona for class. Well, I say he had to leave, when it was actually an amazing opportunity to go down to the US American-Mexican border to learn about border politics first hand. I really wish I had more time at this school. Anyway, our initial goal was driving to Aspen which is a few hours away and a popular skiing area in winter, and a sea of fall colours in autumn. Due to time management we kept changing plans, at some point wanting to drive up to Denver and doing an escape room there, and then, around noon, ended up just taking the car and driving in the general direction of Aspen, hoping to find pretty trees.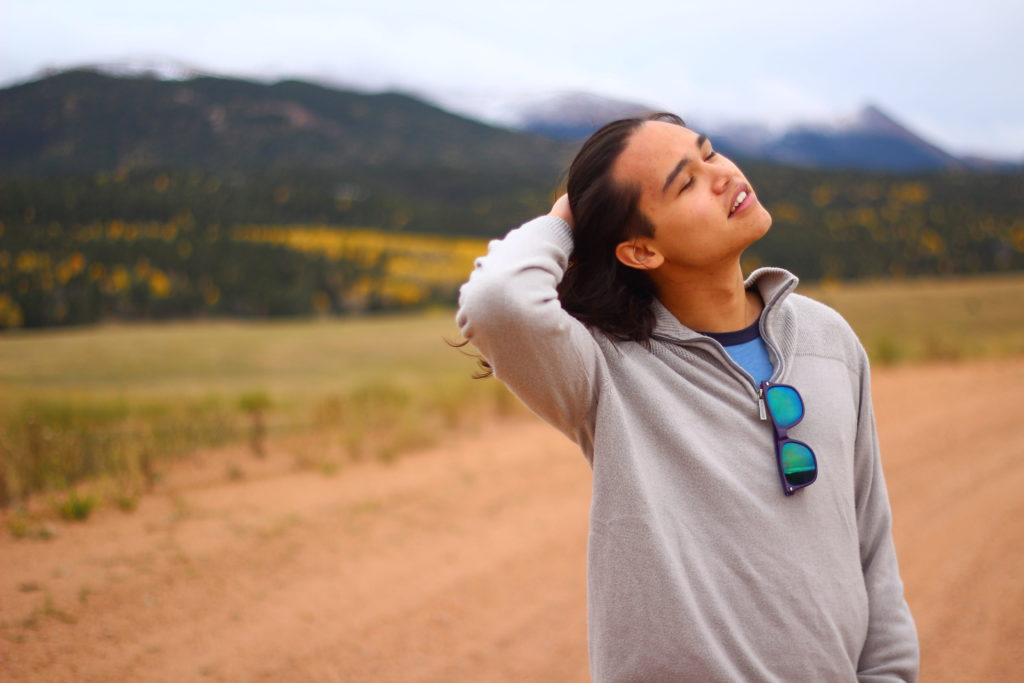 It was one of my happiest Colorado days, I think. Almost like a snapshot of the happiness I feel here, at ease and content with myself, excited by my life, feeling challenged yet accomplished. I wanted to freeze that moment, though frozen it can't be lived. I wanted to stretch it, but not spread it thin. I just wanted it to continue on and never end. So, I go back to that moment and feel the happiness again of a day that kept getting better and better.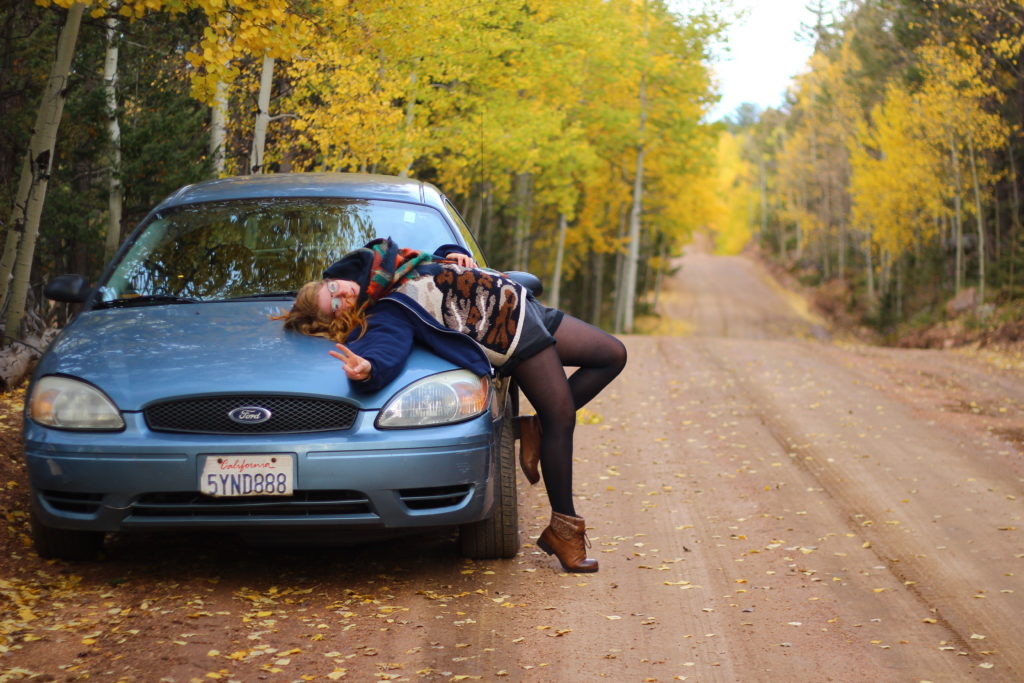 Initially, the snowcapped Pike's Peak in the background, we drove off the highway towards a yellow forest on extremely uncomfortable roads that Jordan's car is definitely not made for. We went slowly, taking photos along the way, taking our time, until we reached a cross road. Go straight or turn right. As we were contemplating what to do, our decision got complicated by a sign we discovered that was pointing in the direction we had just come from. It read "Live Firearm Training Area. DO NOT GO BEYOND THIS POINT". I'm not used to people owning weapons and being and feeling able to use them, but Jordan freaked out. We didn't know what to do. We had branched off the highway and not passed a sign like it, yet it was pointed at the area we had just come through.
We decided that turning back, due to road conditions mainly, was not a good option, so we kept going. And it was scary for a while. I didn't realise how scary until Jordan instructed me that if I heard shots, I was to tilt my seat back all the way, so I would be hidden from the windows. When I asked why I shouldn't crouch down in front of the seat he replied he would be driving like a maniac at that point, and it would be safer for me to stay buckled in. Obviously, nothing happened, and I still don't quite understand what that sign was telling us, except that at some point we had clearly trespassed. The forest unfortunately remained far away from the road and while our panic settled, it was still a relief when we merged back onto the highway.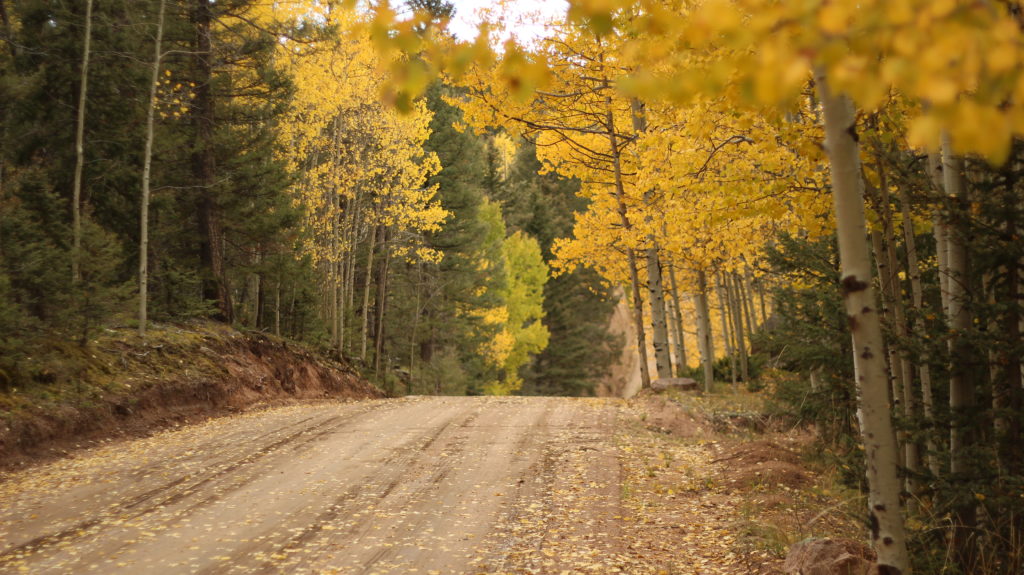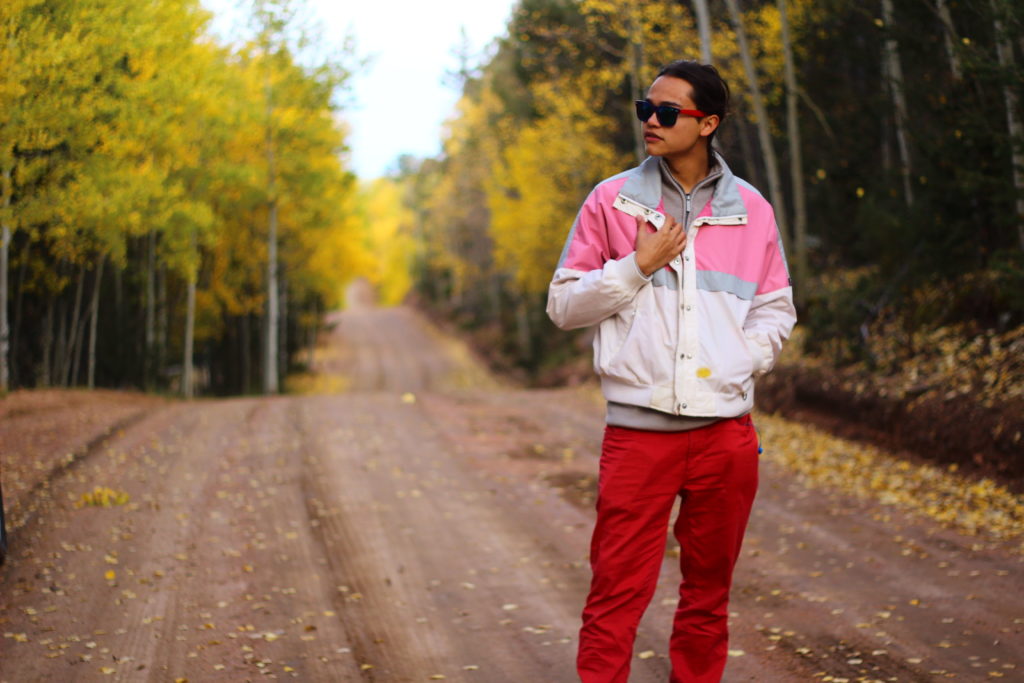 We continued driving towards Aspen, until we passed a sign to Sherwood Forest and after quick contemplation decided to head back and turn off there. What a good decision. Finally, we were surrounded by the most autumn-y of trees. Gold everywhere we looked. The dirt roads sloped up and down like waves, and we parked the car on the side of one to hike up a hill to the side. As we did, the sun started to show and on the hill's top, we put down a picnic blanket and relaxed for a while, watching the sky through golden leaved branches.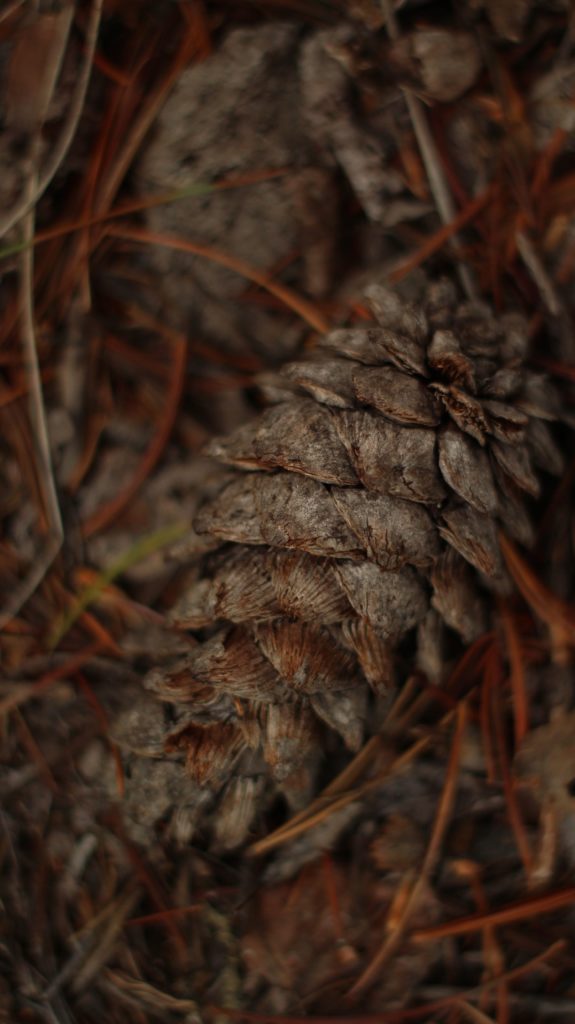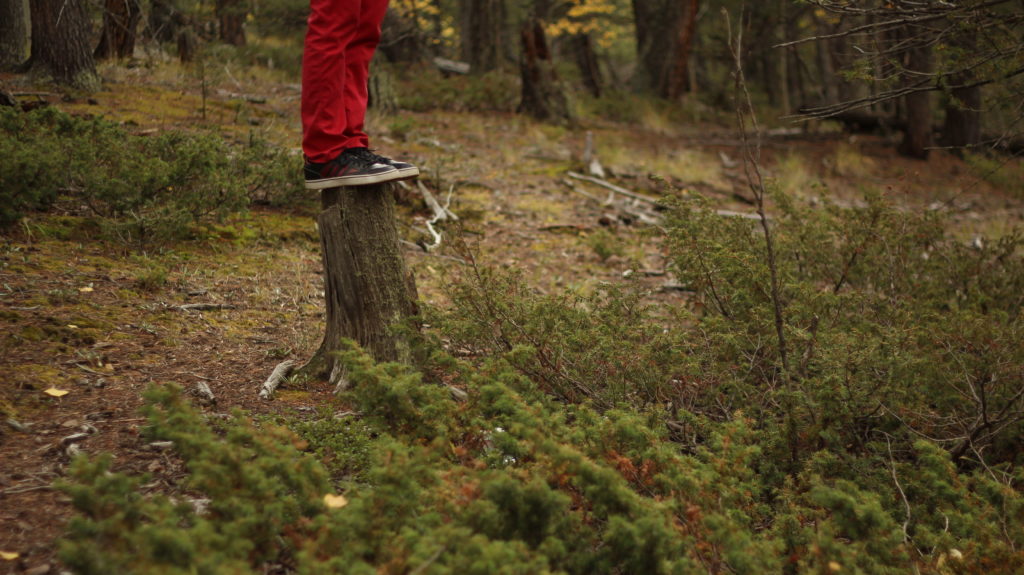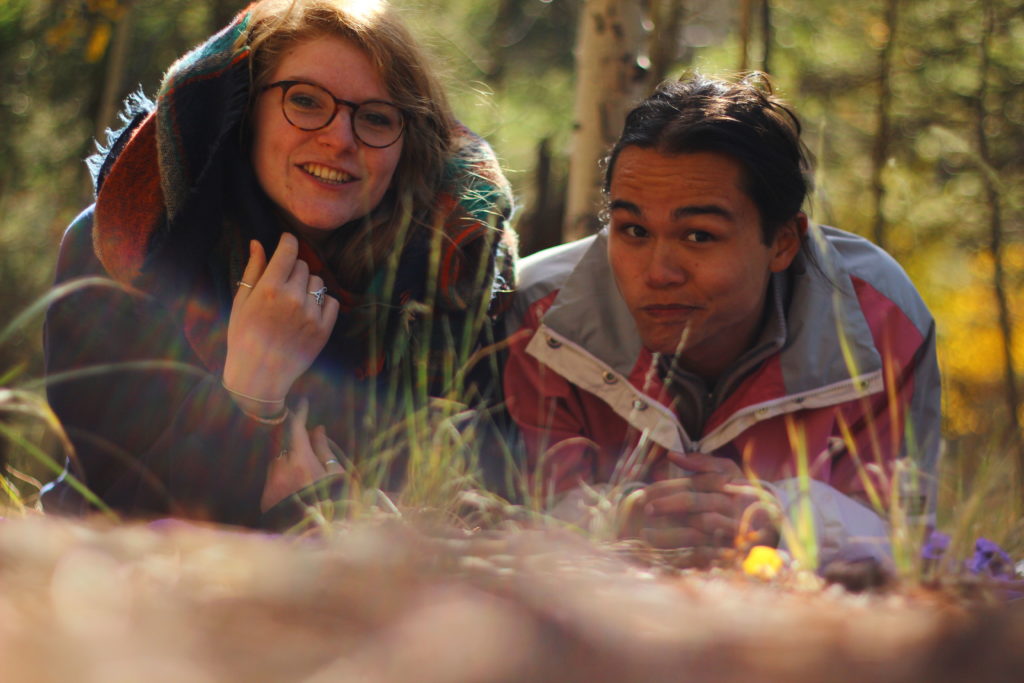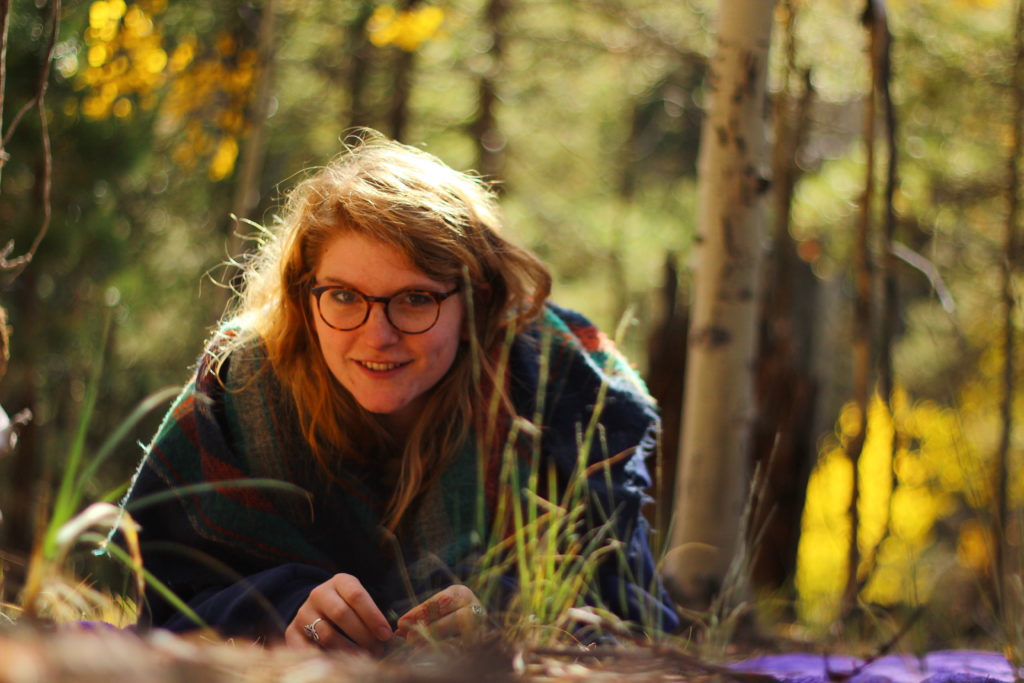 I think it was the faint forbearers of hunger which motivated us to return to the car to find a diner on the way back. Before we even left the Sherwood Forest area, Jordan stopped the car because he had spotted a deer right beside us. Then two fawns joined what I presume was their father, and they remained there in perfect eyesight for a few minutes until a doe joined them. They crossed the street behind the car, clearly unbothered by our presence, and disappeared back into the forest where sun was falling through the trees.
We ended up finding food at a German brewery, good food actually, stone oven pizza actually. As we were eating, a layer of cloud on Pike's Peak began turning pink, and the colours deepened on our drive home. I don't remember if we had coffee that evening or not and just as I was going to say that I'm sure the evening ended wonderfully, I realised that it was a horrible evening. I can laugh about it now that its resulting paranoia has worn off a little, but that evening we watched a short horror film (despite my protest), told horror stories about the apartment we were sitting in, and then got freaked the hell out when someone knocked on the door. I wasn't able to go anywhere in the apartment by myself for weeks. What's interesting though is that it seems like all that happened on another day. To me that day was Sherwood Forest day, and I stand by it: Despite the hiccups, and just maybe because of them, I remember that day as one of the happiest here.