Koh Phi Phi was a whole lot like expected and a whole lot UNexpected. As mentioned before our first night drowned us in strawberrry daiquiris and buried us in sexy jenga blocks. When you see a guy downing his drink in too tight shorts and a crop top he is most certainly playing sexy jenga, and his female equivalent won't be far. We played two round, then danced and met people until Mike took Tim home and then came back to walk the same route again with me. We got side tracked on the beach where the music finally fainted in the distance, and the enormus pressure it put on my head evaporated. During our late night snack I lost my glasses, but we were sane enough to come back to get them. Next day: not so much fun. Still fun, but not so much fun. Un-fun enough that I decided not to go out that night, or not really go out. We still went to visit an utterly drunk Mike and his friends at the bar, but the one drink I ordered didn't become me well so I spent the evening looking at the beach, the songs of two neighboring bars competing for my ears, and testing myself at fire limbo.

Luckily Mike knows his way around hangovers, so nothing stood in the way of a boat trip. The whole thing cost 400 a person plus 200 to enter the Maya Bay national park (or something like that). The first stop, however, was Monkey island. Tim had been pushing me to photograph a monkey since we got to Thailand, so I assume he was in heaven there. Inevitably the beach was crammed with tourists (just imagine high season), and the monkeys sat through pictures as long as they had a water or chang to sip on. If you know anything about monkeys you know they are everything but cute. I knew they liked to steal, had my backpack secure, just not my earring. Whileone of the devils adorably climbed up on my leg, another went straight for the ear. As the video shows the agony was short in reality, however it felt like the beast was trying to rip my ear out for at least a minute. Think you. Can't top that? Oh, you can – by being monkey-suckerpunched. In the days to come, the video of a monkey hitting me in the eye would be the only thing to cheer Michael up.

After a monkey made out with Mike's go pro (thats why the picture is so blurry) we proceeded to Maya beach. In case you have seen the movie, The Beach with Leonardo DiCaprio was filmed here. We basically just went simming there and used the stop to take a few pictures. From lunch on the boat things went downhill. Okay, not quite yet, but we will get to that. Our next stop was a bay to snorkel in. It was nice, but I have been to nicer snorkel sites (still waiting for the cool pics Mike and I took on Koh Tao), and the snorkels themselves kept making popping sounds and let water in. I myself gagged at the salty water, add Mike's hangover, and it's a mircale his fried rice didn't find its way out right then. When we got back on the boat I was cold and therefore not overly thrilled when we stopped at another bay to swim in. At least it gave Michael some relief to be in the water. Tim didn't go again either. We had built a contraption out of a plastic glove and tape to keep his fingers dry (remember, not healing crown of throns wound and all), but it didn't really work out. Like, at all. So when snorkeling he kept holding his hand in the above the water and  occasionally humming the Jaws tune. I'm not surprised he chose to miss the second swim.
Then we moved on, and I think most of us were ready to head home (the scheduled sunset point wouldn't have made sense considering how foggy it was). But one last stop awaited us – Viking Cave. As we approached I was silently chanting "please don't make us get out of the boat, please just leave me be". The people in the other boat were staring in the water, and I thought it would be funny if dolphins popped up. And then dolphins popped up. A freaking real life ten meters away school of dolphins! It's one thing to go on a dolphin watching tour and then seeing dolphins, it's a whole other set of business when they show up out of nowhere, and no one told you you were going to see dolphins! Very cool. So cool, that we didn't mind any downs of the trip anymore, just until we were back at the hostel after dinner. We had gotten Mexican food at a bar where they played 10 Things I hate About You. Epic. We were laying in bed when it happened. Tims stomach hurt, or so we though, until he chased to the bathroom and produced a waterfall of half digested strawberry shake. "When things like that happen it's like looking ten minutes into your own future.", Mike whispered to me dreadfully. Not mine, but certainly his. It was a blessing the dorm had pretty much emptied out that day, because you need to picture this: 12 bed dorm, 2 en suite bathrooms, 0 noise protection. My stomach, while unsettled, seemed to deal with the boat food quite well, but I still lay awake until late at night listening to the two guys processing food backwards. Mike pretty much slept on the bathroom floor, but Tim settled down after a few swigs of emergency coke and apple juice. How do people even live without 7eleven?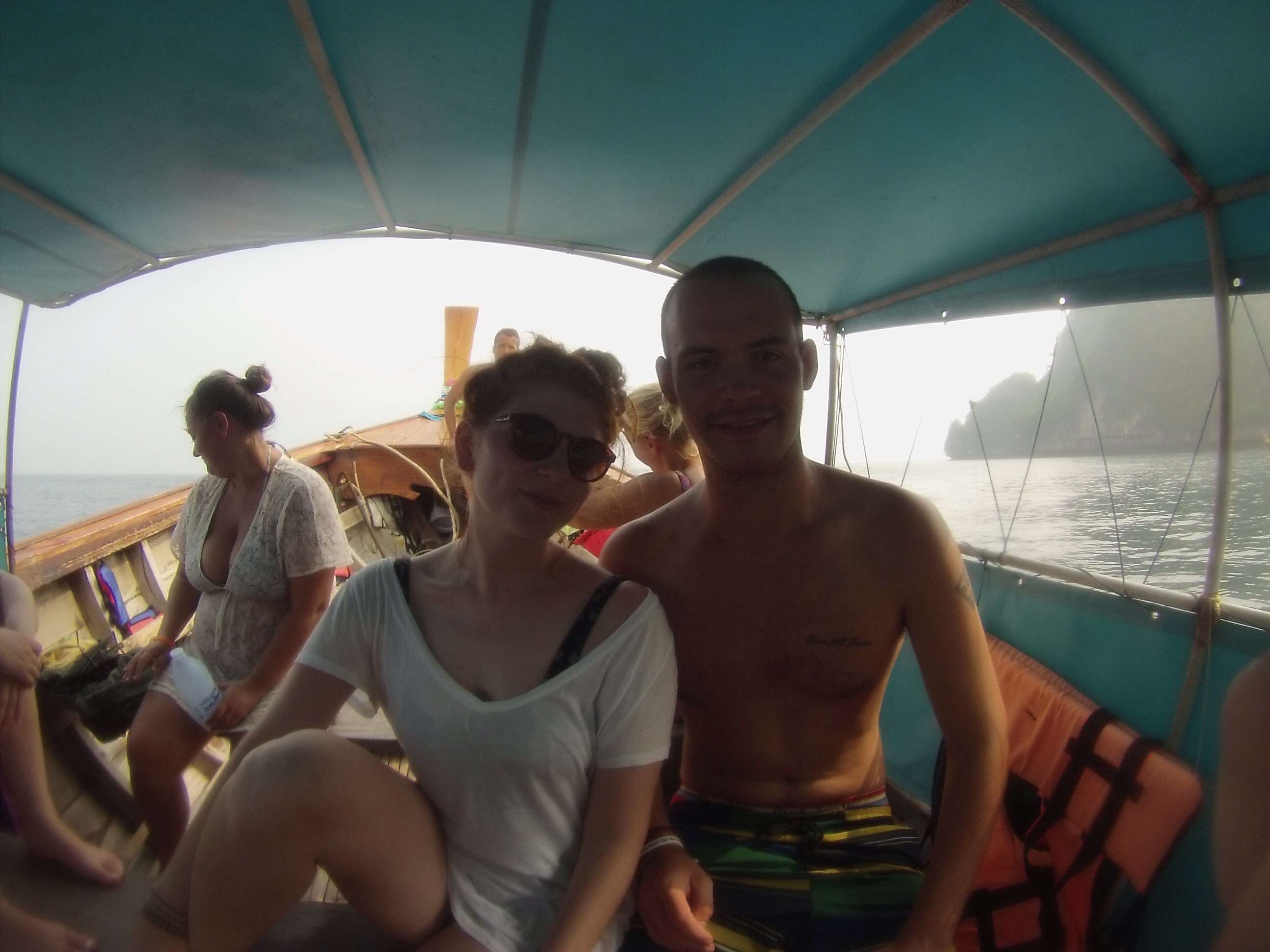 Needless to say, we didn't leave the following day. We stayed in for the most part, me reading a rewritten, Christian friendly version of Harry Potter to the boys and supplying them with hydrating coconut juice, before we watched Tomorowland at the banana bar that evening. After four nights on Phi Phi we went to Phuket and there really isn't much to tell about the one day. We had had a great selection of streetfood from the night market and hung out at the beach before a 14h bus ride to Bangkok. More about that in the next post 😉